Ontario Presents is pleased to announce a new initiative as part of our ongoing efforts to support the presentation of work by Indigenous performing artists in Ontario.
OP presenter members can now apply for funds to cover the costs of travelling to see Indigenous work.
Adam Moffatt has worked with Ontario Presents to create a list of presentation-ready Indigenous artists currently performing in the province (or nearby). The list is available below and will be updated as new works are identified.
While this listing is publicly available (please feel free to share), the funding program is open to Ontario Presents presenting members only. Funds will cover tickets, accommodation, and a contribution towards travel. To apply, simply complete this form and send it to Ceilidh Wood.
This is an ongoing program with continuous intake until funds are spent.
If you have any questions about this program, please contact Ceilidh.  
We encourage you to review OP's Guiding Principles for Presenting Indigenous work for further guidance on this important topic.
January 2019
Cottagers and Indians
Theatre
Sat Jan 26 - Fri, Feb 1
Show Dates:
Jan 26: Lighthouse Festival Theatre, Port Dover (Tickets and Info)
Jan 31: The Mask at the community of Rama, Orillia
Feb 1: St Paul's Centre, Orillia (Huronia Cultural Campus - Tickets and Info)
Wild rice sparks a battle royal between a native farmer and a white cottager, whose increasingly bitter dispute becomes a microcosm for reconciliation. Told with warmth and humour, and encompassing issues of community, respect and ownership, Cottagers & Indians is a tale for our times – and a food fight for the ages.
February 2019
Rumble: The Indians Who Rocked the World presents Rumble The Concert
Music
Show Dates:
Wed, Feb 6: FirstOntario Performing Arts Centre, St. Catharines (Tickets and Info)
Fri, Feb 8: The Grand Theatre, Kingston (Tickets and Info)
Sun, Feb 10: FirstOntario Arts Centre, Milton (Tickets and Info)
Wed, Feb 13: The Sanderson Centre, Brantford (Tickets and Info)
Fri, Feb 15: Oakville Centre for the Performing Arts (Tickets and Info)
RUMBLE: THE CONCERT  will present songs that tell the story of Indigenous influences in shaping roots, blues, jazz, folk, and rock music genres.
Inspired by the Smithsonian Institution exhibit Up Where We Belong: Native Musicians in Popular Culture and featuring video clips from the Sundance and Hot Docs award-winning film RUMBLE: The Indians Who Rocked The World by Rezolution Pictures (Montreal), the concert will tell the story of a profound and, until now, missing chapter in the history of North American and worldwide popular music. Featuring songs by Native music icons Charley Patton, Mildred Bailey, Link Wray, Jimi Hendrix, Jesse Ed Davis, Buffy Sainte-Marie, Robbie Robertson, and others. 
RUMBLE: THE CONCERT  reveals the talented Indigenous musicians who helped shape the soundtracks of our lives. 
Tales of an Urban Indian at the Undercurrents Festival, Ottawa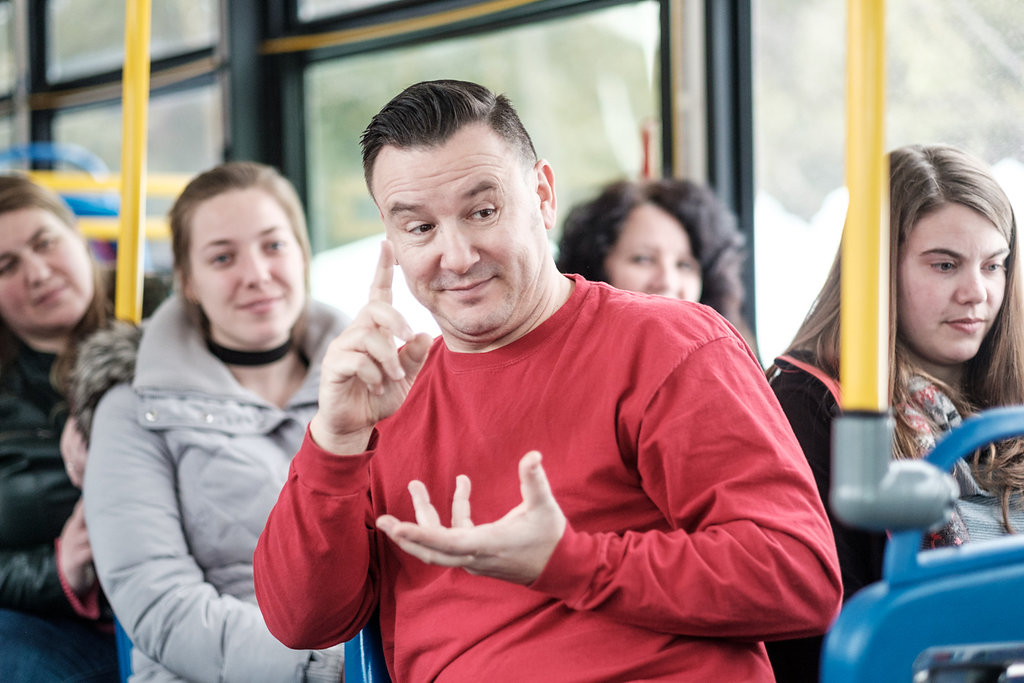 Wed, Feb 13 - Sat, Feb 16
Theatre
Simon Douglas. He's the guy who sits next to you on the bus, and won't stop talking. About his friends back on the reserve. His mom and grandmother. His girlfriends. A man torn between two worlds, ride along with Simon and see the world through his eyes.
Staged on an OC Transpo bus and sold out across Canada – don't miss this ride!
Find Talk is Free Theatre on: Facebook | Twitter | Website
Photo: Craig Lauzon, photo by Scott Cooper

Kaha:wi Dance - Blood Tides at the Harbourfront Centre, Toronto
Thurs, Feb 14 - Sat, Feb 16
Dance
Blood Tides activates sacred alignments from cosmos to womb. Imagery and energies span the wide range of what is woman: warrior, leader, mother, divine goddess, creator, thresholder of life and death and huntress, illuminated by elemental and ancestral forces. Blood Tides acknowledges the magnificence of women in all of her phases – its inter-generational performance. "Blood Tides opens up space to question, retrieve pre-colonial Indigenous women's knowledges, and weave her narratives and experiences. The embodiment of her divinity and humanity united, owning and navigating space, Blood Tides activates women's ceremony and cycles remembering Indigenous matrifocal ways of being." Santee Smith (Artistic Director/Producer, Six Nations)
Find Kaha:wi Dance on: Facebook | Instagram | Website
Photo by Ian R Maracle
Amanda Rheaume at the National Arts Centre, Ottawa
Sat, Feb 16
Music
Gritty and melodic, Amanda Rhéaume has become synonymous with some of the catchiest, Canadian roots-pop of the last decade. Winner of the 2014 CFMA for Aboriginal Songwriter of the Year, Rhéaume has toured extensively across Canada, the US, Europe, The United Kingdom, Central America, and more. She has opened for artists such as Emmylou Harris, K'Naan, Lucinda Williams, and Ani Difranco.
Find Amanda Rheaume on Facebook | Instagram | Twitter | YouTube | Website

Matiu at the Grand Théâtre de Québec, Québec City
Sun, Feb 17
Music
Matiu comes from the Côte-Nord region and is one of those artists opposed to sequined artists: he is very ordinary and quiet, he is the musical mix of Neil Young and ZZ Top. His music seeks to understand human relationships, identity and, ultimately, the meaning of life, that of the reserve as that of the city
Find Matiu on: Facebook | Website
Photo by Julien Choquette

iskwē at the Mod Club, Toronto
Opening Act: Riit
Sat, Feb 23
Music
The multi-award winning artist iskwē, is unafraid to challenge the convictions of her detractors by honouring her heritage, standing steadfast in her viewpoints, iskwē's artistry knows no bounds. Blending soulful, breathlessly delivered lyrics coloured by the many shades of human nature with a sonic palette that takes its cue from the shadowy atmospherics of the 1990s Bristol sound, iskwē's music revels in her strength of self and that is her true rallying cry.
On February 23 iskwē will reveal a new and immersive experience at Toronto's The Mod Club. The audience can expect the same thought-provoking artistic statements along with new visual elements that strengthen the stories that she's collected over the past 13 months of touring the globe. The performance will also serve as a turning point in iskwē's evolution as the artist changes her name to use Standard Roman Orthography.
Find iskwē on: Facebook | Instagram | Twitter
Spirited, honest, and soulful; these words come to mind when listening to the music of Riit (Rita Claire Mike-Murphy), a young Inuk performer who was born and raised in Pangnirtung, Nunavut, a hamlet of about 1600 residents just below the Arctic circle. A multi-talented musician, she is a throat singer, guitarist, singer, and accordionist.The singer-songwriter started honing her artistic talents early as a participant at music, theatre, and video workshops in her hometown, but she says she can't remember a time when she didn't play music. Riit has performed solo and with groups across the North, and has taken her talents around the world, throat singing in places as far as away as Scotland and Australia. She recently started recording and performing her original songs, which feature her unique voice and lyrics accompanied by folk guitar, at venues in Ottawa and Iqaluit. Riit is signed to Aakuluk Music and has recently released her first EP, including her hit song Imiqtaq.
Find Riit on: Website | Facebook
Bears at Factory Theatre, Toronto
Feb 28 - Mar 17
Theatre
Factory presents an Alberta Aboriginal Performing Arts and Punctuate! Theatre production. Written and directed by Matthew MacKenzie.
As the prime suspect in a workplace accident, Floyd flees through the Rockies to escape the clutches of the RCMP. On his riveting journey westward to the Pacific, Floyd looks back on his childhood, meets some unlikely companions, and undergoes a startling transformation. A love letter to nature and critique of the devastating consequences of industrial expansion, Bears is a wild multi-disciplinary adventure.
March 2019

Twin Flames at the National Arts Centre, Ottawa
Fri, Mar 1
Music
Come in from the cold and be captivated by the multi award winning, husband wife duo, Twin Flames. Combining the musical talents of Jaaji (Inuk Mohawk from Nunavik) and Chelsey June (Algonquin Cree Métis) from Ottawa, Twin Flames take listeners on a musical journey across Canada and the Arctic, as they echo the voices of their ancestors and depict life on the land singing songs in English, Inuktitut and French. Their music pushes the boundaries of contemporary folk, incorporating traditional instruments. 
Find Twin Flames on: Facebook | Instagram | Twitter | Website
Photo by Sean Sisk
Ka'tarohkwi Festival of Indigenous Arts, Kingston
Wed, Mar 6 - Sun, Mar 24
Interdisciplinary
The Isabel Bader Center for the Performing Arts and the Agnes Etherington Arts Center have partnered to present the Ka'tarohkwi Festival of Indigenous Art, curated by Dylan Robinson, Canada Research Chair in Indigenous Arts at Queen's University. In addition to film screenings, the festival includes:
Mar 6: I Lost My Talk & Qiksaatuq (Tickets and Info)
Mar 16: Digging Roots (Tickets and Info)
Mar 22: Resound: See Monsters + Wolastokqiyik Lintuwakonawa (Tickets and Info)
Mar 23: Wani' / Lost (Tickets and Info)
Mar 24: Niigaani-gichigami / Oniatarí:io (Tickets and Info)
Find out more on the website 

Maggie and Me at the Capitol Centre, North Bay
Fri, Mar 28 - Sat, Mar 29
Dance
This piece began with the offering to be a jingle dress dancer evolving into the creation of a contemporary healing dance allowing gifts and ancestral experience's to guide the choreographer in creation and manifestation. In this signature solo, the dancer-choreographer (Christine Friday) travels with us through dimensional realms of existence – spirit, dream and present – performing a journey within her life. "The healing and revitalization of our Anishinaabe culture." Stage lighting is stripped down, the soundscape a euphoric blend of hand drums and voices. With a movement style that is at once free, lyrical, explosive an expression of indigenous contemporary dance, she walks into her own power.
Find Christine Friday on: Facebook | Instagram | Website
Photo by Nathalie Duhaine
Diyet & The Love Soldiers at the National Arts Centre, Ottawa
Sun, Mar 30
Music
Born in a tent and raised in a cabin on the shores of a glacial lake in the Kluane region of Canada's Yukon, country-roots artist Diyet is a seamless amalgam of cultures. Via folk music and Aboriginal forms, she channels her various linages (Southern Tutchone, Japanese, Tlingit and Scottish) into stories and melodies deeply rooted in her Indigenous world view, and northern reality. The owner of a formidable voice, she performs as a trio with husband/guitarist/collaborator, Robert van Lieshout, and multi- instrumentalist, Bob Hamilton. Diyet's music is an adventurous show and tell, effortlessly balancing modernity and tradition.
Find Diyet and the Love Soldiers on: Facebook | Instagram | Twitter | YouTube | Website 
May 2019

Leela Gilday at the National Arts Centre, Ottawa
Sat, May 4
Music
Born in Yellowknife, on the shores of Great Slave Lake, Leela Gilday writes warm and effortless folk-pop, steeped in the history of her people and the ruggedness of land that created her. Leela Gilday has toured extensively across Canada, the US, Greenland, Denmark, and Europe. A gifted storyteller, NAC Presents welcomes Leela Gilday as she releases her fifth studio album (Spring 2019).
Find Leela Gilday on: Facebook | Instagram | Twitter | Website
Photo by Shawna McLeod 
Digging Roots at the Aurora Cultural Centre
Fri, May 24
Music
Juno Award-winning "roots, rock soul-folk and blues" (CBC Radio) group Digging Roots, fronted by ShoShona Kish and Raven Kanatakta, together with their band have performed the world over – from Glastonbury, to Canada's remote far north, Australia and Scandinavia – bringing their message of love, activism and positive change.
Winner of the 2015 Canadian Folk Music Award for Aboriginal Songwriter of the Year.
Find Digging Roots on: Instagram | Twitter | Website