- by Alyssa Lai, Marketing and Communications Manager, Hamilton Children's Choir
In 2016, the question isn't about whether your organization should be on social media; it is centred on how organizations can reap the benefits by being social. Because social media facilitate conversations and amplify important issues, nonprofits can connect and build their audience, reach out to influencers and cultivate future donors online. Here are five ways you can make social media relevant for your organization.
Be deliberate. Have a strategy.
No, you cannot just "wing it" on social media. Activities on social media should be governed by your organization's core principles and values. The decision to post, share or interact with any type of content should be thought out in advance. This means creating a blueprint - a social media strategy - to serve as a guiding tool for any activity on social media. I discussed how you can create one effectively in this webinar.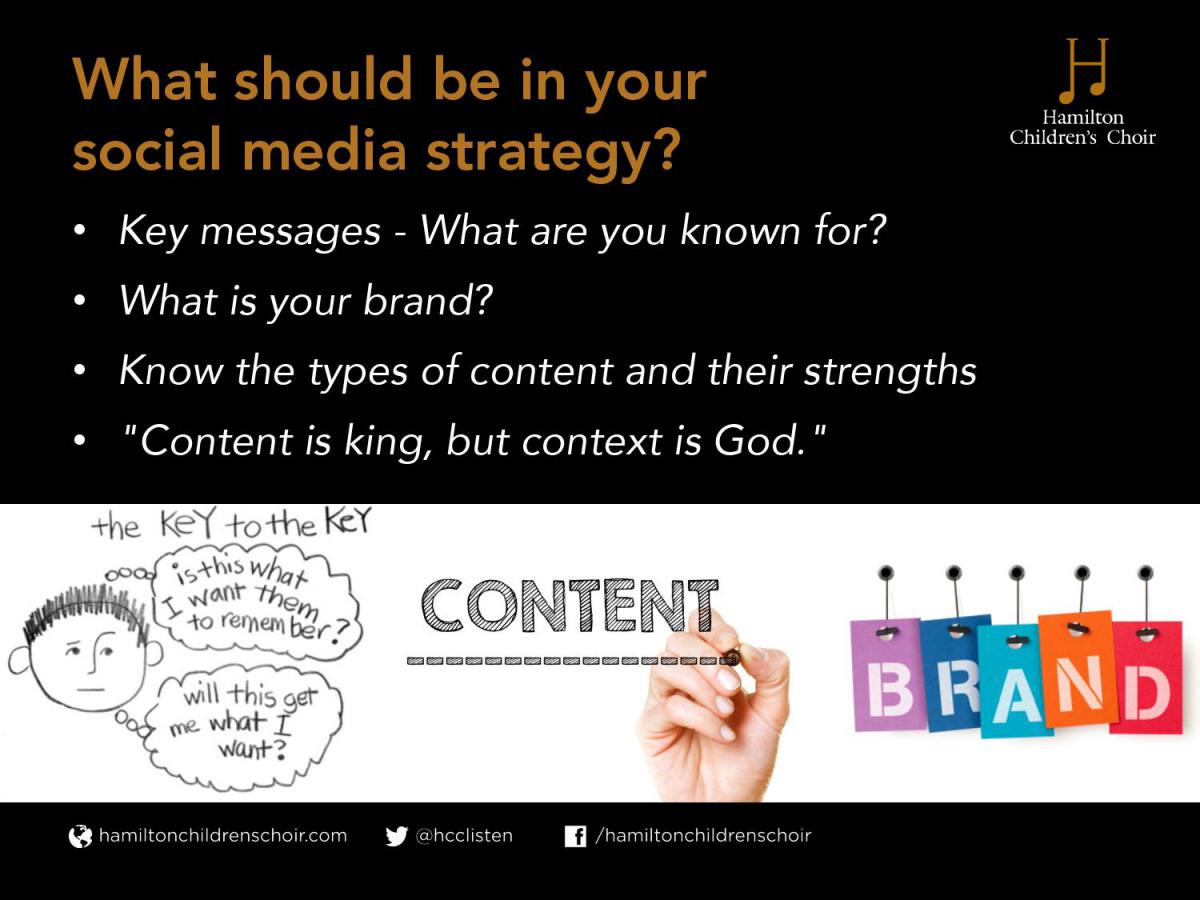 When you are representing an organization on social media, you are embodying the persona and qualities of the entity. That is the fundamental difference between your personal social media activities versus your organization's. Clarifying the distinction is a crucial part of your social media strategy. 
Integrate digital with your overall communications and marketing strategy
Your social media strategy should be a part of your overall communications and marketing strategy. Launching a new concert series? What materials do you need to promote the series? Posters, graphics, videos, email marketing are some the things you need to generate buzz for your initiative.  Brainstorm ways where you can spread the message on social media.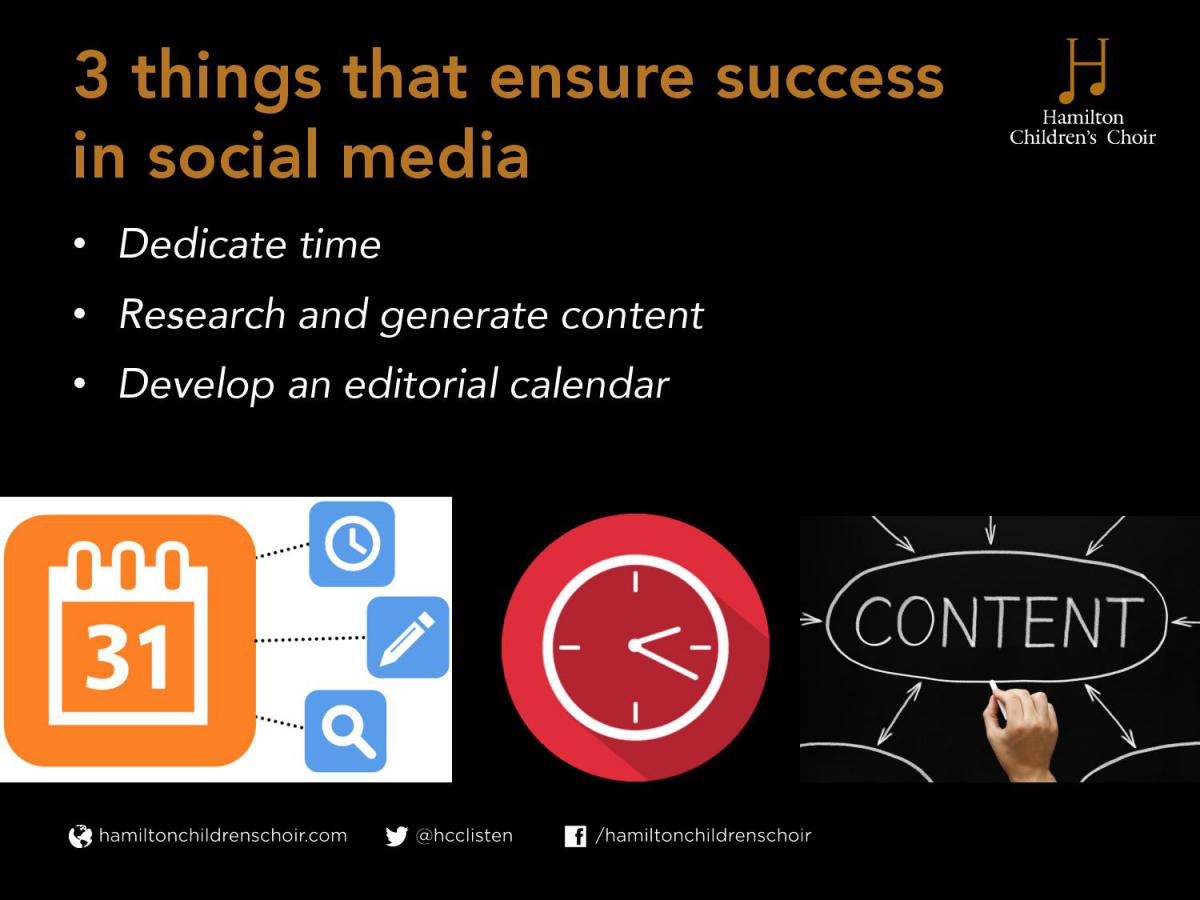 Create a content calendar to stay on track and keep the momentum. Find ways you can share content socially, which brings me to…
"Content is king, but context is God."
Social media is not a one-size-fits-all medium. With a plethora of social media platforms to choose from, each medium has its strengths and weaknesses. True, quality content matters but it can only shine through a proper medium.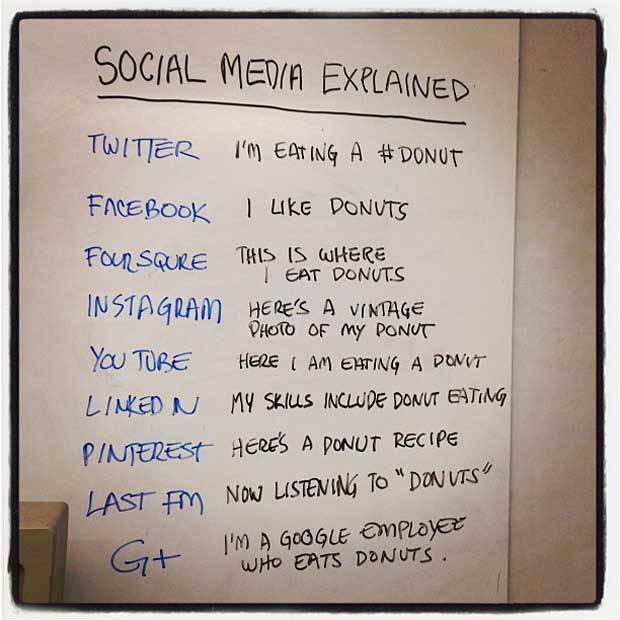 Eat a donut, share the fact that you did differently on social media. Image via businessinsider.com
Gary Vaynerchuck hit the nail on the head in his book Jab, Jab, Jab, Right Hook by stating that "content is king, but context is God." For instance, links are clickable on Facebook and Twitter, but not on Instagram posts. Optimal image dimensions vary on each platform. By exercising this lens, you have a more thorough understanding of the nuances of each social media platform you use for your organization.
Dedicate time to be social
There is no shortcut to be an ace on social media. Sure, there are a wealth of resources and apps that can guide and enhance your social media activities, but make no mistake: digital and social media activities require time, resources and attention. Social media ROI is not immediate but it pays long term to invest on social media. Part of this includes spending time creating a content strategy and editorial calendar to plan ahead and align social media activities with your programming. It's worth noting that not all content has to be original or created from scratch. I discussed different types of content and where to seek them.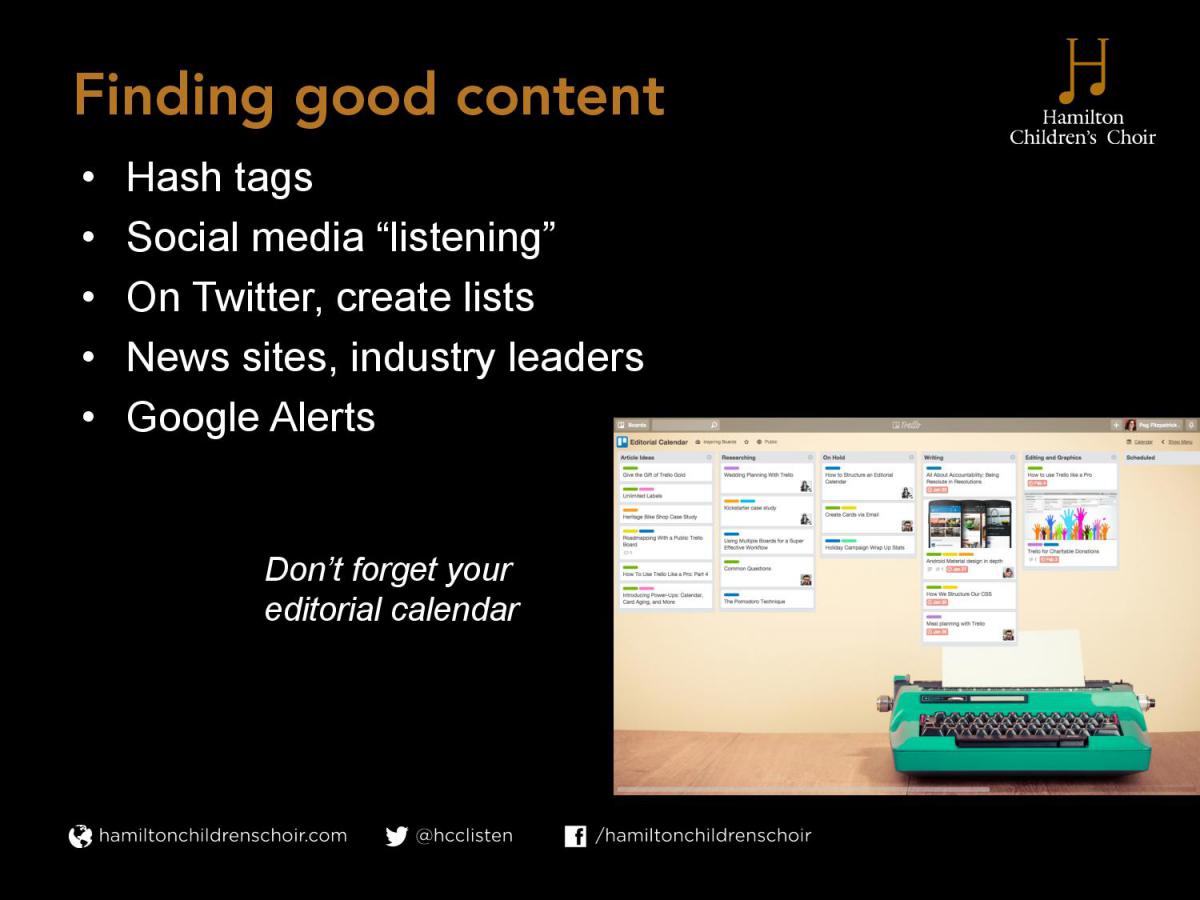 Frequency of posting also matters. Buffer has some recommendations on that topic. Planning ahead for content encourages you to be more strategic on social media.
Invest and experiment with paid ads on social media
As much as quality content matters for any platform, it is becoming harder for organizations to stand out on social media by relying solely on organic posts. 2015 was a difficult year for brands with a steady decline in page engagement rate. Paid advertising on social media is becoming a norm sooner rather than later.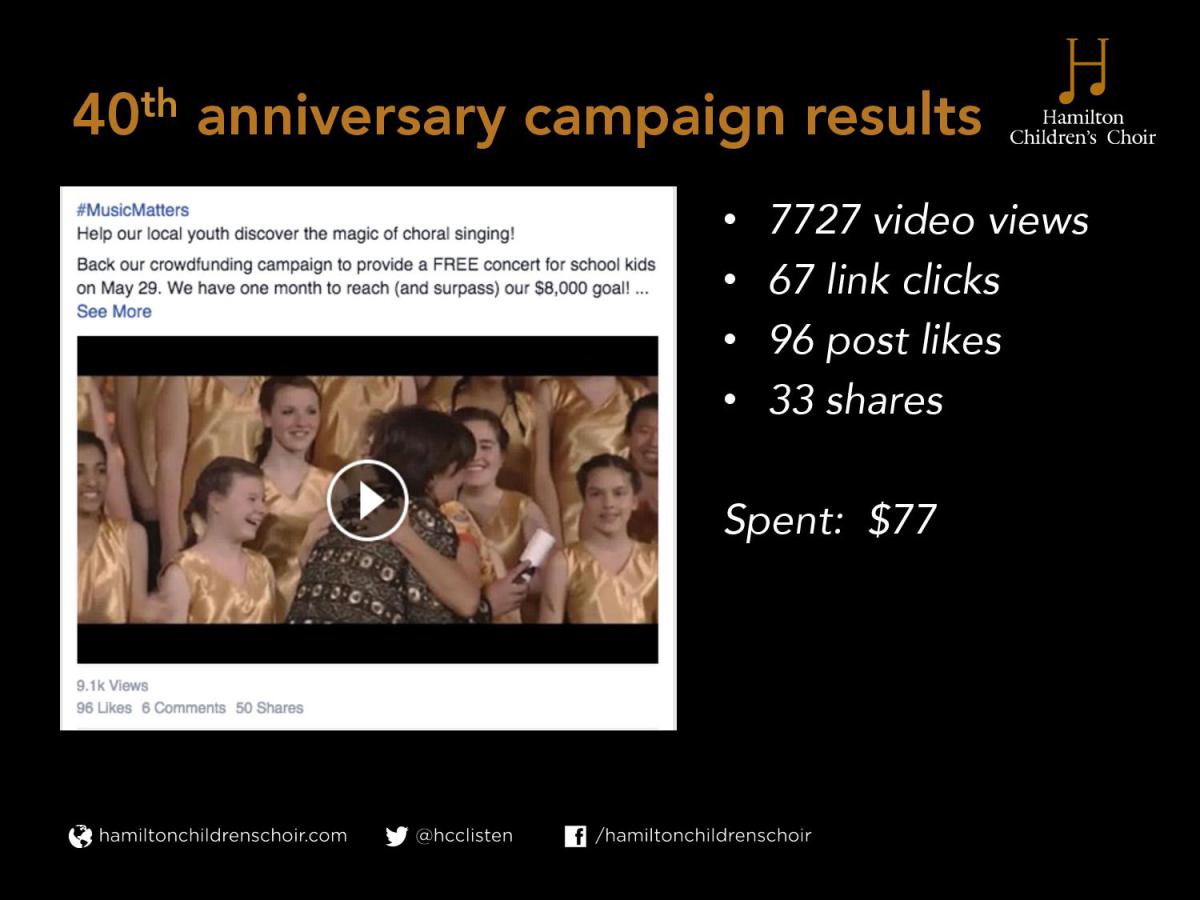 Advertising on social media does not cost much. For a 2-week ad campaign for Hamilton Children's Choir, we spent approximately $77
The good news is that it doesn't cost much to run successful social media ad campaigns (here's an estimate). It can cost as little as $0.50 per click on Facebook sponsored posts. Running ads on social media gives you invaluable data about your audience, something that a print or TV ad cannot guarantee. Because of the reasons above, it pays to experiment on social ads. If you're starting from scratch, refer to Hubspot's free guide to social media advertising (email address needed to download).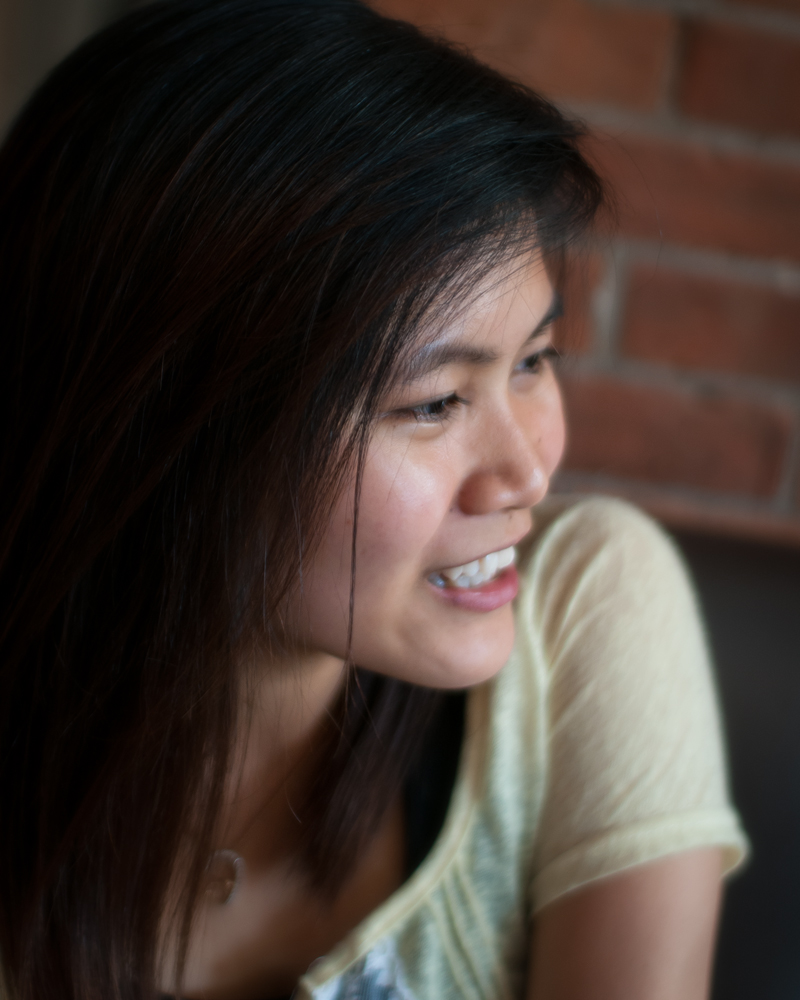 Alyssa Lai is the Marketing and Communications Manager for the award-winning Hamilton Children's Choir. She combines strategy and skill to further the organization's goals and shares positive stories that inspire, engage and inform. A true Gen Y-er with many online selfs, you can learn more about her at www.alyssaglai.com or find her on Twitter @alyssaglai