We are very excited to have Canada's acclaimed Debajehmujig - Storytellers in residence for our upcoming Members Retreat in Brantford! On Thursday evening, June 6, members will gather around a campfire beside the orchard at Woodlands Cultural Centre, and the Global Savages  will share the story they have been travelling the world sharing for the last three years.
For more information about the Retreat and how to register, click here.
Aanii/Hello
We all recognize the world is changing, and often in ways that we feel we have no control over.
Whether it is a global economic crisis, or peak oil, or climate change, or terrorism – we have created an environment of fear and we relentlessly try and protect ourselves from everything and everyone.
At the same time, we wonder why young people are so distracted by new technology. Perhaps they want to escape this reality.
But it doesn't have to be like this. We are not hopeless. There is something we can do – a great deal in fact. It is entirely within our power and our resources and our abilities to do it. And there is a growing number of communities around the world that have come to realize it and actualize it. It is still possible for us to create a world for our descendants that is better than the one we inherited.
The Global Savages believe this, and believe that we all have a responsibility to move forward and begin to build it now. For our children. For our grandchildren.  And for the preservation of humanity. (Ok so the third one may sound a bit lofty at this point, but by the time we have gathered by the fire, we will all agree about it.)
So how do we build community resilience? In a word – engage. That is all we have to do, is engage. Engage locally. Engage with each other. Attend the meetings. Join the discussions. Be a part of the circle. Volunteer on the committees. Help with the gardens.  Support the cause. If you can't contribute something to the fundraiser … then buy something at the fundraiser. Watch the performance. Complete the survey. Offer your services. Let them wash your car. Organize the transportation. Bake the casserole. And become a member. Find a community organization that you have never been involved in,  and become a member. An active member.
And so if we can motivate people to get more engaged in community life, if we can create an actual movement or momentum to participate, (hence the term 'Community Animator' –  one who helps get the community in motion) if we can do this, then what will happen?
There will be an overall 're'education' of the community, because people will start gathering around the local expertise that has already thought things through, already compiled the information, already has a local game plan.
Many people continue to live based on presuppositions that may have been true 25 years ago, but are no longer. Our communities need to be updated, not about things around the world that you can Google,  but about things that are next door that you can't.
Now that you have watched this long, some of you are thinking 'hey I know these references, this sounds like the transition movement',  and some of you are thinking 'hey I know these references, this sounds like traditional teachings of Indigenous people' and some of you are thinking 'hey I know these reference, this sounds like economic self-reliance', and some of you are thinking 'hey I know these references, these sound like indicators of quality of life'.
And of course the great thing is that they are all references.  It is in the realization that the traditional teachings of Indigenous People, the philosophy of the transition movement, the logic of economic self-reliance and the objective of quality of life are all not only compatible with one another, they are all partners in one thing - the preservation of humanity!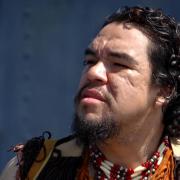 I am the one that is called Debajehmud which in the language of my people, means storyteller. That is who I am and what I do. Storytelling. You can call me DeeJaay for short.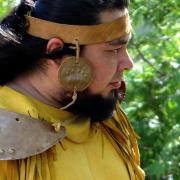 I am the one that is called Mudjeekawis which in the language of my people, means first born. I am the oldest brother of Debajehmud, and I am the record keeper. You can call me Kwis for short. Like a little child trying to say Chris. Kwis.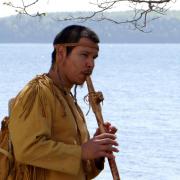 I am the one that is called Chibiabos which in the language of my people, means white ghost rabbit. I am a musician. I died when I was 21, so now I perform in both worlds. I am the younger brother of DeeJay and Kwis. You can call me Chibby for short.
And this is our mother.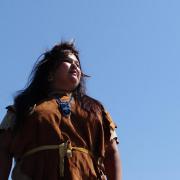 I am the one that is called Giizhigo Kwe – which means Sky Woman, or the Woman With a Good View from Up High. My boys say I'm named that because I'm nosey and have to know everything that's going on. Anyway, regardless of the interpretation, I am a woman, and you can call me Sky for short.
 DeeJay, Kwis, Chibby, and Sky
About the Company
Debajehmujig – Storytellers (De-ba-jeh-mu-jig Theatre Group) was established in 1984 by Shirley Cheechoo and Blake Debassige, on Manitoulin Island, having been inspired by their experiences at the landmark Schreiber Island School organized by the late Tom Peltier in the 1970's. His dream was to bring Aboriginal artists together on an Island in hopes of a transformative group experience that would propel them to energetically pursue the creative expression of Aboriginal people. It succeeded and led to the development of artist's careers, new companies, galleries, and a new vocabulary and aesthetic based on Aboriginal experience, cultural traditions and their relationship to the natural environment.
Debajehmujig – Storytellers was the first professional arts organization located on reserve. Since 1989 the head office has been on the Wikwemikong Unceded Indian Reserve. In 2008 the company opened The Debajehmujig Creation Centre in the neighbouring community of Manitowaning. All 15 full time employees and 8 Board Members are residents of Manitoulin Island.