This Meet The Artist series highlights amazing and talented performing arts professionals from diverse backgrounds.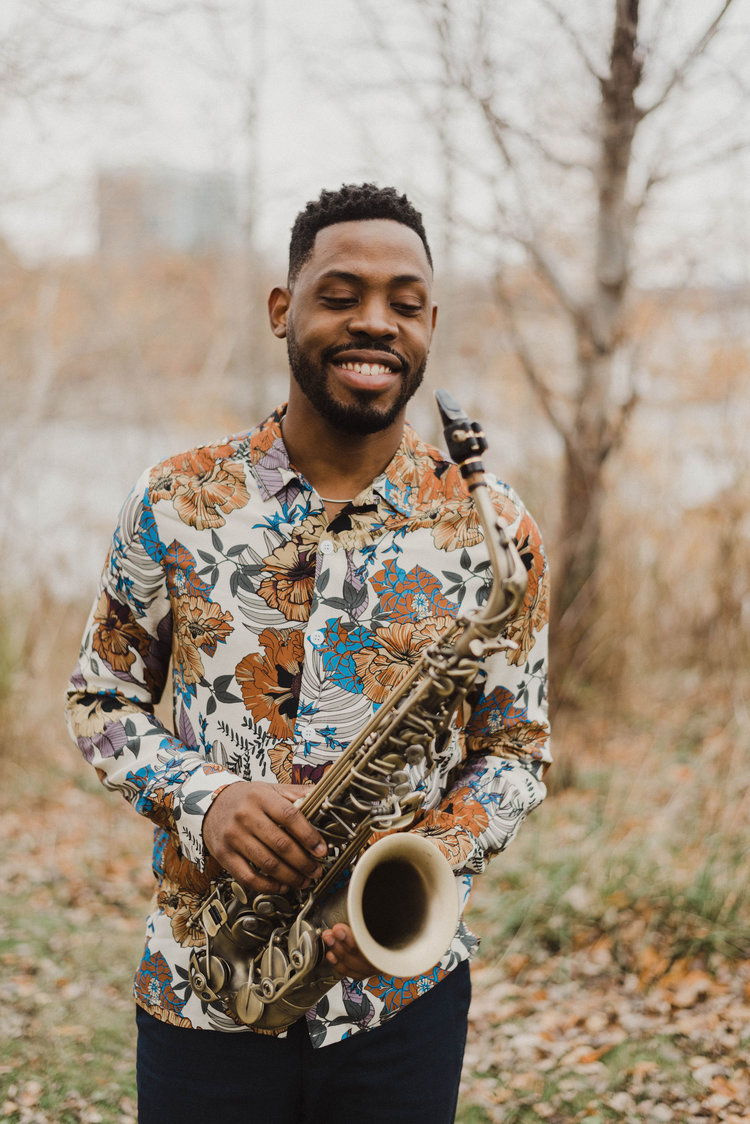 Trinidadian-born saxophonist and composer, Jesse Ryan, has been praised as a fresh new voice, with a unique perspective on the music of today. His Bridges project is an emerging, eclectic quintet that bridges both the jazz and Afro-Caribbean traditions - A true celebration of  the cultural, rhythmic and expressive connections between North America and the islands. Jesse was the 2020 recipient of the Toronto  Arts Foundation's Emerging Jazz Artist Award and has worked with a variety of jazz, gospel and world music artists.

Hi, everyone. I'm Deb, and I'm here with jazz musician Jesse Ryan. Jesse, please introduce yourself to us?
Sure, as you said, my name is Jesse and I'm from Trinidad and Tobago. I live in Toronto now, and I've been doing music for a while. I recently released my debut album Bridges. I would describe my music as a celebration of connections- Jazz and the styles of music that come from the Caribbean.
Awesome. I have a fun, kind of holiday-themed question for you: what's your go-to holiday food or beverage?
Okay, I have two so I give them both to you. They come from Trinidad and Tobago. The first one is called pastel. So if anybody doesn't know, it's a cornmeal, sort of… pie. That's the only way I can describe it. And it's made with meat and vegetables inside. And then my favorite drink would be Punch de Creme, which is our version of eggnog. 
Thank you. Okay, so here's more of an art-related question. If you could send a message to the next generation of musicians, would you send a message? And if yes, what would that message be?
Wow, that's a tough one. To the next generation of musicians, I would say, find a good mentor. Someone who has the talent, a mentor that is connected to the tradition of music that you want to pursue, and stay close to them and listen to their advice.
Do you have any projects or performances that you'd like us to know about? 
In terms of upcoming shows, I have a show planned, Christmas at the Jazz Bistro. It's going to be a wonderful show that features renowned Venezuelan-Canadian singer Eliana Cuevas and trumpeter Andrew McAnsh.
And as I mentioned, I released my debut album last year. December 4th, 2021 will be one year. You can go to my website, www.jesseryanmuzik.com, to listen to the music or to purchase merch. I have T-shirts, and so on. 
Would you like to tell us a little bit more about your album?
Sure. When I moved to Canada, just about eight years ago, I had this moment where I was walking, on my way to school at Humber College. I was listening to a jazz musician play a pop musician's song in Canadian which gave me the idea that good music is a bridge that could connect all of these things. So that's why the album's called Bridges. 
And the album itself features nine different tracks. And three of those trucks I've dedicated to celebrating a tradition from Tobago, which is the smaller of the two islands called Tambrin music. It's a drum and dance tradition. So I had the opportunity to feature a full group from Tobago called the Mt. Cullane Tambrin Band, and three of those songs, and the other tracks feature my friends and some special guests like Joanna Majoko and there are some wonderful musicians from Toronto as well.
Thanks so much for sharing with us it was an absolute pleasure to have you on meet the artists this year and we wish you all the best.
Jesse: Thank you so much for having me.
Find Jesse via: website|facebook|instagram
See the past interviews here.