Each year, Ontario Presents presenting members actively participate in the block booking program to develop tours that will travel to their communities across Ontario. The tours incorporate many disciplines of the performing arts including contemporary dance, comedy, young audience, theatre and music. 
As we move into 2020, we wanted to take a look back at the shows that have completed successful OP member tours so far this season. 
In the fall of 2019, 28 communities across Ontario experienced high-quality performances by Canadian and International artists booked through the Ontario Presents Block Booking Program.
The movement of work that you can see in the below map would not be possible without our members' collaboration. We look forward to continuing to work together ensure that great performing arts experiences reach communities across Ontario!
Northern Ontario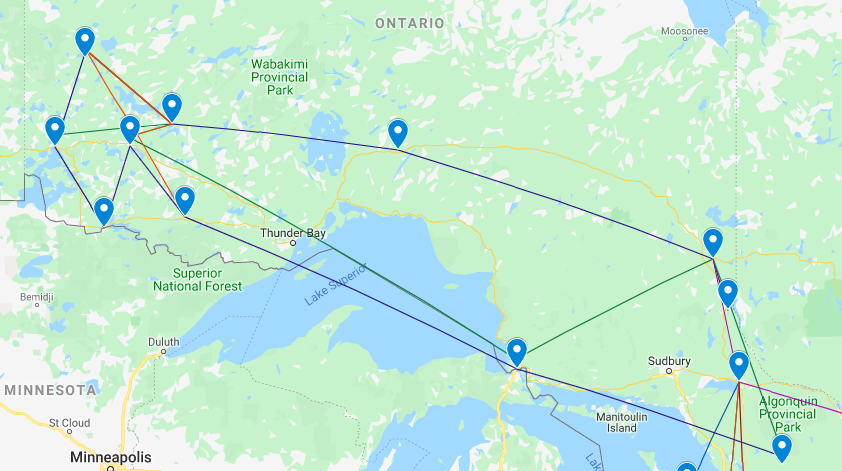 Ripopée (L'Aubergine) - Young audience, circus
Toured to: Pied Piper Kidshows (Cobalt), Kirkland Lake Family Entertainment Series, Geraldton Children's Entertainment Series, Kids Kaleidoscope (Sioux Lookout), Red Lake Children's Entertainment, Sunday Smiles (Kenora), Kids and Company Family Entertainment Series (Fort Frances), Dryden Children's Delight, Atikokan Children's Entertainment Series, Over the Rainbow (Sault Ste. Marie), Razzamatazz Kidshows (Haliburton)
Maritime Marionnettes - Young audience, theatre
Toured to: Razzamatazz Kidshows (Haliburton), Pied Piper Kidshows (Cobalt), Kirkland Lake Family Entertainment Series, Over the Rainbow (Sault Ste. Marie), Dryden Children's Delight, Kids Kaleidoscope (Sioux Lookout), Sunday Smiles (Kenora)
The Code (Green Thumb Theatre) - Young audience, theatre
Toured to: Dryden Children's Delight, Kids Kaleidoscope (Sioux Lookout), Red Lake Children's Entertainment, Atikokan Children's Entertainment Series
Southern Ontario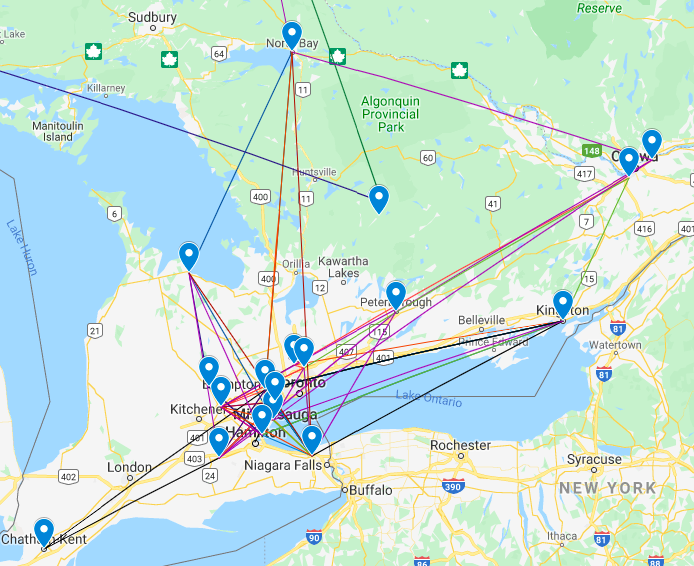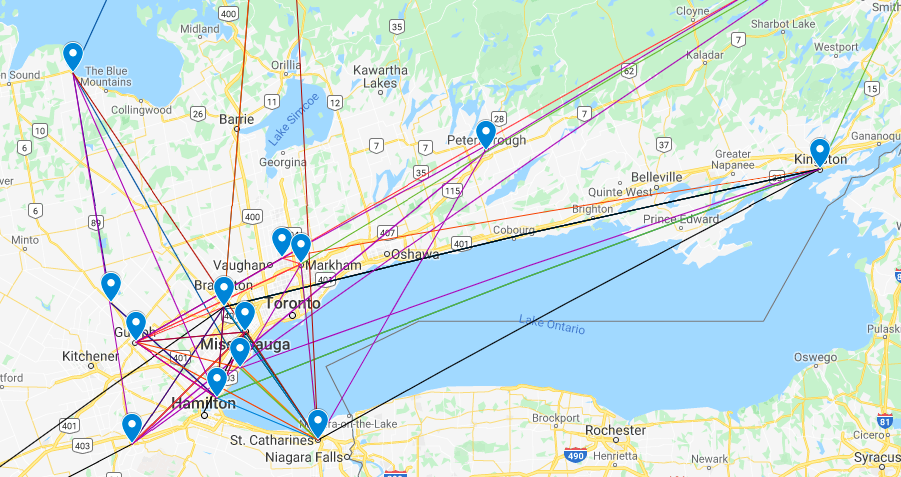 Bangarra Dance Theatre: SPIRIT- Dance
Toured to: Sanderson Centre for the Performing Arts (Brantford), special tour to the National Arts Centre (Ottawa), the St. Lawrence Centre (Ottawa), as well as Vancouver and Montreal. With administrative and logistical support from Ontario Presents
Cowboy Junkies - Music
Toured to: Rose Theatre Brampton, Capitol Centre (North Bay), Meaford Hall Arts & Cultural Centre, Oakville Centre for the Performing Arts
Dogman - Young audience, theatre
Toured to: Richmond Hill Centre for the Performing Arts, Grand Theatre Kingston, Rose Theatre Brampton,Capitol Centre (North Bay), Burlington Performing Arts Centre, River Run Centre (Guelph), The Living Arts Centre (Mississauga)
Decidedly Jazz Dance Company – Juliet and Romeo - Dance
Toured to: The Living Arts Centre (Mississauga), FirstOntario Performing Arts Centre (ST. Catharines), Rose Theatre Brampton, Grand Theatre Kingston 
Howie Mandel - Comedy
Toured to: Sanderson Centre (Brantford), Rose Theatre Brampton, River Run Centre (Guelph), Flato Markham Theatre, Richmond Hill Centre for the Performing Arts, Meridian Theatres @ Centrepointe (Ottawa)
Huff - Theatre
Toured to: Oakville Centre for the Performing Arts, The Living Arts Centre (Mississauga), FirstOntario Performing Arts Centre (St. Catharines), Rose Theatre Brampton, Grand Theatre Kingston, Burlington Performing Arts Centre
Lighthouse 50th Anniversary Tour - Music
Toured to: Sanderson Centre (Brantford), Showplace Performance Centre (Peterborough), Shenkman Arts Centre (Ottawa), Capitol Centre (North Bay), Kirkland Lake Arts Council
Maceo Parker - Music
Toured to: Oakville Centre for the Performing Arts, FirstOntario Performing Arts Centre
Max Weinberg's Juke Box - Music
Toured to: Oakville Centre for the Performing Arts, FirstOntario Performing Arts Centre, Flato Markham Theatre, Meridian Theatres @ Centrepointe (Ottawa), the Grand Theatre (Kingston), Burlington Performing Arts Centre
Rufus Wainwright- Music
Toured to: Grand Theatre (Kingston), Rose Theatre Brampton
Sesame Street Live - Young audience
Toured to: FirstOntario Performing Arts Centre (St. Catharines), Grand Theatre (Kingston), Rose Theatre Brampton, Chatham Capitol Theatre, Sanderson Centre for the Performing Arts (Brantford), The Living Arts Centre, Burlington Performing Arts Centre
Sloan- Music
Toured to: Burlington Performing Arts Centre, FirstOntario Performing Arts Centre (St. Catharines), Rose Theatre (Brampton)
The Abrams - Music
Toured to: Flato Markham Theatre, River Run Centre (Guelph), Burlington Performing Arts Centre, The Living Arts Centre (Mississauga), Sanderson Centre for the Performing Arts (Brantford)
The Code (Green Thumb Theatre) - Young audience, theatre
Toured to: Sanderson Centre for the Performing Arts (Brantford), Rose Theatre (Brampton), Burlington Performing Arts Centre, Fergus Grand Theatre, Meaford Hall Arts & Cultural Centre 
The Joshua Show - Young audience, theatre
Toured to: Rose Theatre Brampton, Burlington Performing Arts Centre, The Living Arts Centre (Mississauga), River Run Centre (Guelph), Richmond Hill Performing Arts Centre
The Jungle Book (Kidoons) - Young audience, theatre
Toured to: Oakville Centre for the Performing Arts, River Run Centre (Guelph), FirstOntario Performing Arts Centre
The Men of the Deeps - Music
Toured to: Shenkman Arts Centre (Ottawa), Sanderson Centre for the Performing Arts (Brantford), Meaford Arts & Cultural Centre, Burlington Performing Arts Centre, River Run Centre (Guelph), Showplace Performance Centre (Peterborough), FirstOntario Performing Arts Centre (St. Catharines), Flato Markham Theatre, Oakville Centre for the Performing Arts, Grand Theatre (Kingston)
Whitehorse - Music
Toured to: Capitol Centre (North Bay), FirstOntario Performing Arts Centre (St. Catharines), Meaford Arts & Cultural Centre
Top Photo: Performance photos from Ontario Contact 2018. From left to right: Ripopee (L'Aubergine), The Code (Green Thumb Theatre), and The Joshua Show (Joshua Holden). Photos by Chesley House Fine ARt