Ontario Presents is an active network of members who are engaged both in their own unique projects and in Ontario Presents programs. As a network, we are focused on connecting and sharing information with each other, but we are not always aware of what our fellow members are up to. That's why we've recently launched the OP Update blog series, which will provide periodic check-ins with an OP member or program.
For this update, we spoke with To Be Determined Theatre Company about their experience touring Northern Ontario, a tour arranged through Ontario Presents' Northern Young Audience Volunteer Network.

In late March, 2018, three artists and one tour manager from To Be Determined Theatre Company loaded into their car and drove North to embark on a 16-day tour of their theatre for young audiences piece, Jillian Jiggs.
TBD visited nine communities in just over two weeks, including many beautiful Northern locations which do not often have the opportunity to welcome touring artists, and which the TBD artists had never had a chance to visit. This tour was booked through the Northern Young Audience Volunteer Network – a network of volunteer presenters with a shared interest in booking live performances for children. Several presenters from this network had a chance to see a showcase performance of Jillian Jiggs Ontario Contact 2017.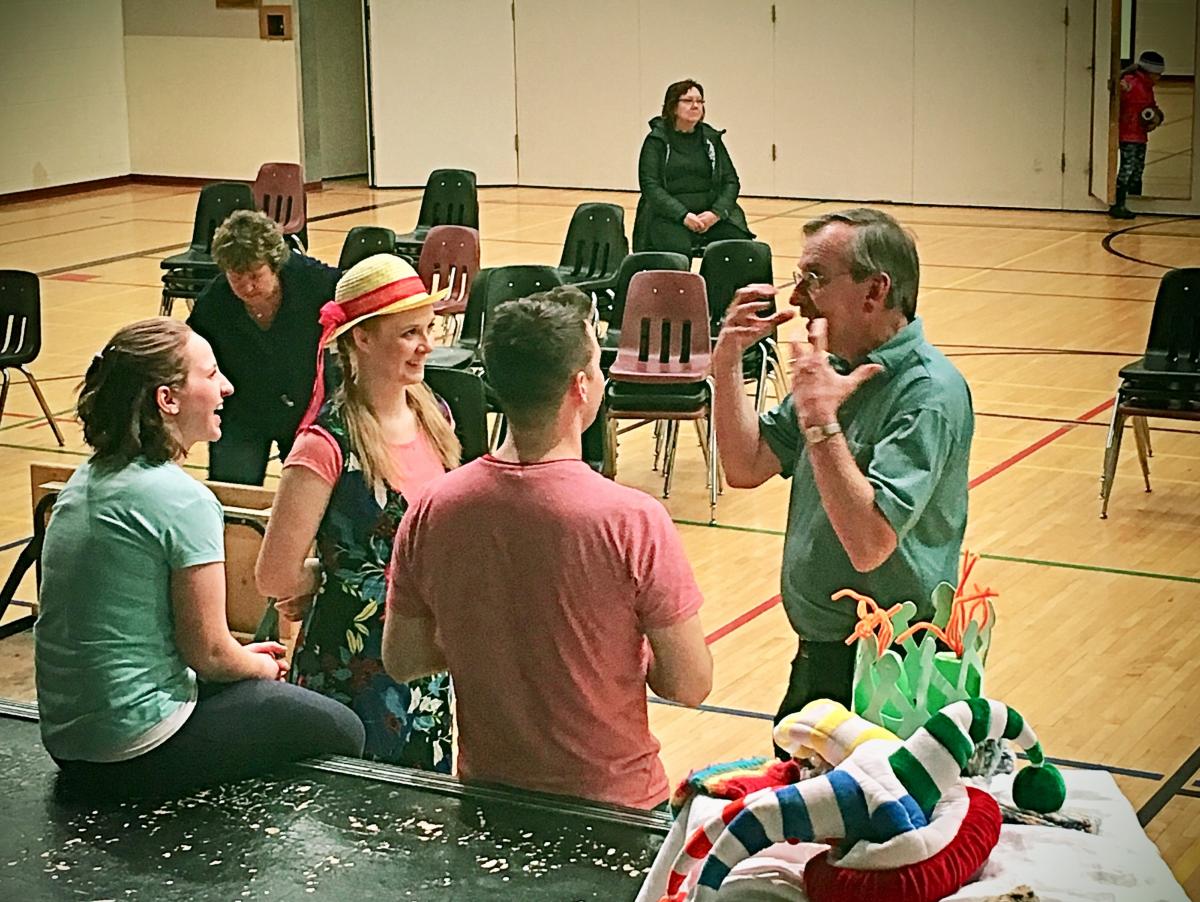 TBD was thrilled with the every aspect of the experience, from the ease of having logistics arranged through Ontario Presents' block booking program, to the warm hospitality of each community, to the chance to discover new parts of the province.
The artists also took the opportunity to give something extra to the communities in which they were travelling. Alexandra Lent, Artistic Director of TBD, realized ahead of the tour that the company had two free days available. During one day they would be near Thunder Bay, so Alexandra took the initiative to call the local hospital and ask to visit the pediatric ward. The actors then took their free day to visit the hospital, free of charge, perform a few songs and make Jillian Jiggs' pigs with the children.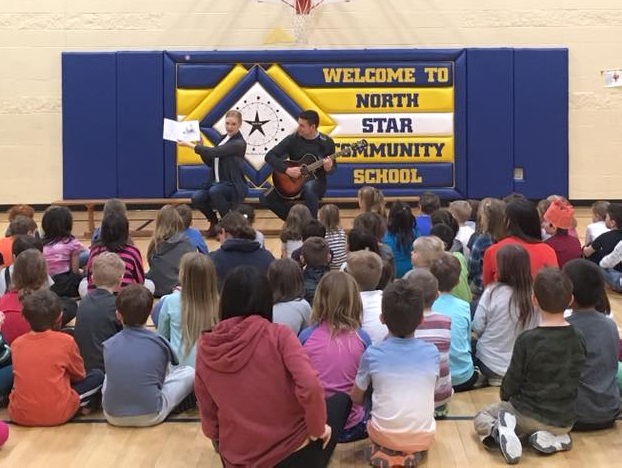 For the second free day, Alexandra recalled two experiences from Ontario Contact 2017. During the conference she had met Frank Dzijacky from Geraldton Children's Entertainment Series. Frank had been very welcoming, spoken so highly of his community, and mentioned with regret that the Entertainment Series did not have the budget to add an additional Jillian Jiggs show at the Johnny Therriault Memorial School in Aroland First Nation for this particular performance.
Alexandra also recalled hearing the keynote speaker at Contact 2017, Mike Stevens. Mike is the founder of ArtsCan Circle, a non profit organization dedicated to supporting youth at risk in Northern Canada. He spoke to the importance of community outreach and the possibilities for supporting youth through art.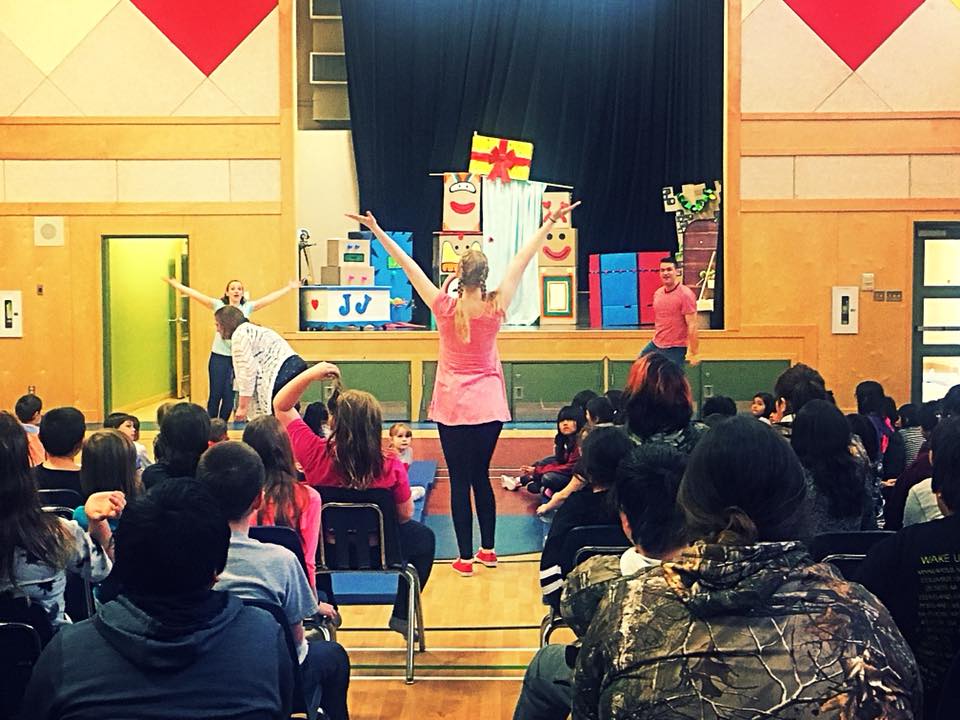 Inspired by these two experiences, Alexandra called Frank and the two arranged for TBD to visit Aroland First Nation free of charge on their day off.
Students from nearby Nakina reserve also bused in for the show, and TBD performed for nearly 100 students who rarely have the opportunity to see live theatre. According to Alexandra, "We do so many school shows in a year, and to feel this sense of excitement was really something." For the artists, "everything about the experience was literally magical." Frank generously met the group for breakfast and acted as their "12-hour tour guide," fresh snow had just fallen, and the artists were inspired by the hospitality and warm environment at Johnny Therriault Memorial School.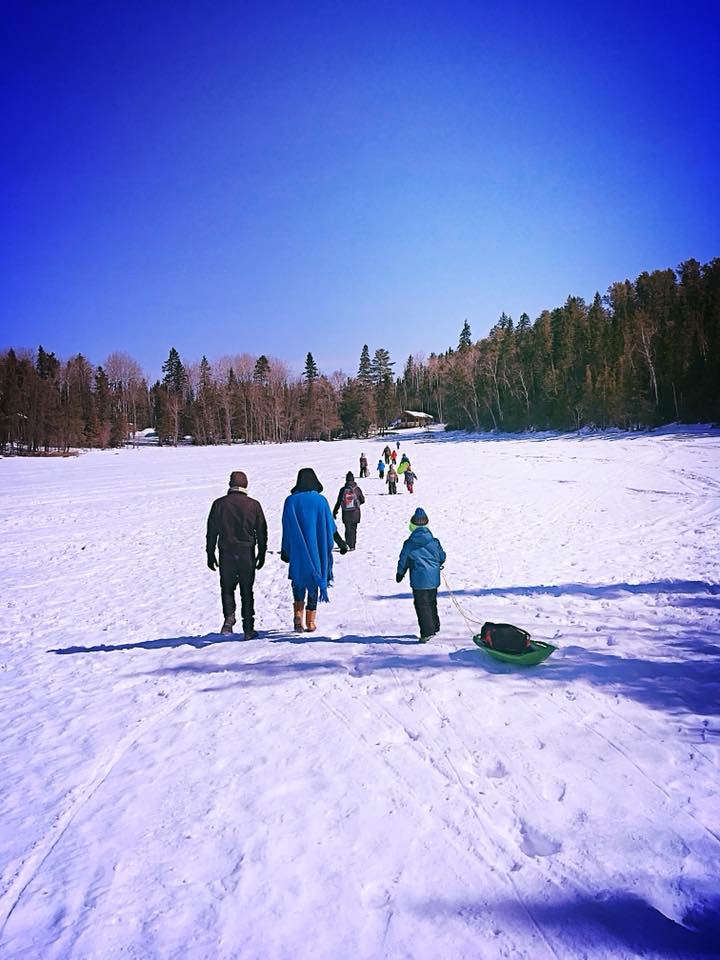 This feeling continued as the tour moved on to Kirkland Lake, Sioux Lookout, Dryden, Red Lake, Kenora, Fort Francis, Atikokan, and Sault Ste. Marie. Each community brought new surprises- from beautiful venues, to packed shows, to a chance for Jillian Jiggs to hike on a frozen lake with Beavers and Scouts.
Even the snow held off until the very end of the tour, and Jillian Jiggs was able to safely return to Toronto from her Northern visit!
Thank you to To Be Determined Theatre Company for sharing the story of their tour with us, and to all of the communities who made the company feel so welcome along the way!
Prologue to the Performing Arts company DuffleBag Theatre also performed at Johnny Therriault School in Aroland First Nation during their January 2018 Northern Ontario tour of Peter Pan! You can read all about their visit here.