It is with great pleasure Ontario Presents congratulates our long time member and past member of the Board, Cameron Smillie on winning the BC Touring Council 2015 Award for Agent / Manager of the Year.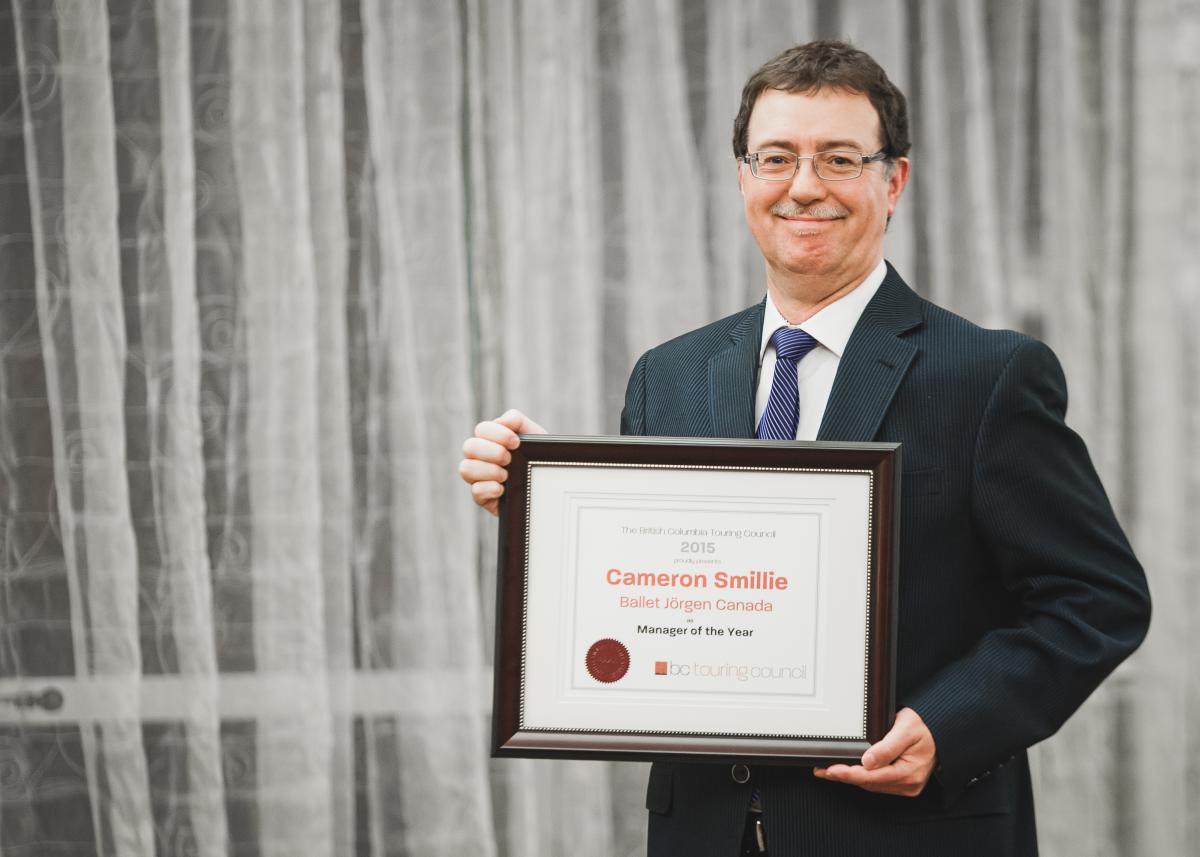 Cameron has helped build a vibrant dance touring market, and is among the most successful Artist's Managers in Canada today. Both his passion for the arts and his exacting professionalism have made him a trusted colleague of presenters and artists alike. Most recently he put together a National tour of Cinderella spanning all 10 Canadian provinces including eight BC communities. Cameron's singular knowledge, dedication and effort has allowed for an expansion of ballet programming to many underserved communities across the country. In British Columbia this included the northern communities of Burns Lake, Fort St. James, Kitimat, Prince Rupert, Quesnel and Smithers.
"You were amazing in Fort St James. Just unbelievable. Truly a night to remember. Thank you."  – Audience member, Fort St James, B.C.
As Director of Touring, Cameron has played an integral role in building Canada's Ballet Jörgen into one of the most successful dance companies in the country. Together with his partner, Carolynn Clark, he also co-founded the company, Live at the Hippo Pool Events Inc. To date, Live at the Hippo Pool Events has presented over 100 live performances in communities across southwestern Ontario. Under the banner of Live at the Hippo Pool Events, Cameron has worked with a number artists and arts organizations, including Evelyn Hart, The Royal Winnipeg Ballet, The National Ballet of Canada, Ballet Kelowna, Brampton Arts Council, Illusionists Ted & Marion Outerbridge, Go Fly a Kyte Productions ( Tompkinsville) and Juno Productions (Jake's Gift). Cameron's passion for the arts is evident in his volunteer work that includes an impressive 25 year term on the board of the Sanderson Centre for the Performing Arts (Brantford) and serving on the board of CCI/Ontario Presents (2009-2014).
About Canada's Ballet Jörgen 
Canada's Ballet Jörgen builds communities across Canada through the shared experience of professional ballet. Reaching every province with over 600 events annually, we ensure communities large and small, urban and rural have access to a ballet experience that is recognized for its innovation, warmth and beauty. Inspiring and connecting with Canadians for over 25 years, Canada's Ballet Jörgen makes ballet and Canadian choreography a meaningful part of Canadians' lives through performance, education, and community engagement. www.balletjorgencanada.ca
For interview requests, performance photos and more please visit www.balletjorgencanada.ca/media or contact Anne Zozo:
Phone: 416.415.5000 x 2886, eMail: marketing@balletjorgen.ca