CCI-Ontario Presenting Network is seeking Expressions of Interest by communities to host Ontario Contact 2016.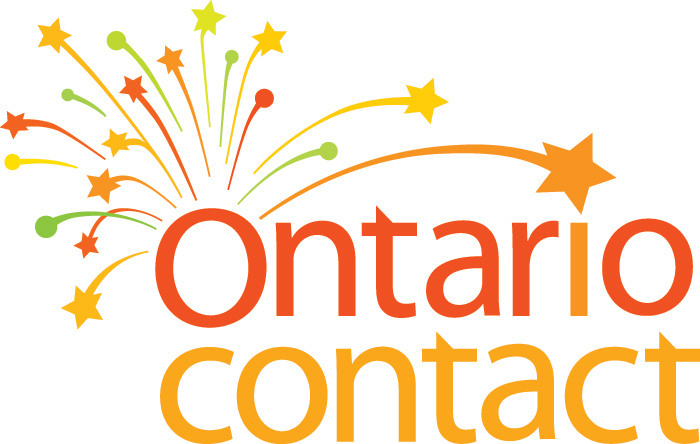 As part of its commitment to support networking opportunities for its delegates – both presenters and artists - Ontario Contact is committed to moving its event to different areas of the province to promote the value of live, professional performances presented in communities. Interested communities are asked to submit Letters of Interest (maximum 750-1,000 words) by April 1, 2014.
Background
The presentation of professional performing artists in communities across Ontario is facilitated by an annual conference called Ontario Contact. For forty years, this highly valued event has assembled artists, presenters and artist management to network, negotiate bookings, and discuss industry concerns. Event components include artist showcases, workshops, keynote speeches, receptions, networking opportunities and a trade show. Attendees include artists, artist managers, agents, professional and amateur presenters ranging in experience from novice to mature. Approximately 250 to 300 delegates and artists attend the conference each year.
Benefits to the community and/or host venue include:
Direct economic benefits to the community particularly in the hospitality field but not exclusively
Major conference with some 400+ participating
Puts the local venue on the provincial presenting arts map
Tourism exposure for your community
Gives the local community an understanding of a broader process involving performing arts activities
Allows host venue to showcase a huge spectrum of Canadian artists, opportunity to provide bonus to subscribers
Volunteer opportunities
Commercial tie-ins with music stores, bookstores, souvenir shops
Direct economic benefits to the hospitality community
Requirements:
Venue with at least 250 seats available for four consecutive days November 3rd to 5th 2016.
Venue fully equipped technically (sound and lights) with rehearsal space, storage space, warm-up room, Grand Piano, rehearsal piano and knowledgeable tech staff. We provide a professional production manager. Venue required for at least 4 days from 6:30am to 11pm with suitable breaks provided. Must be able to accommodate multiple artists backstage as well as FOH services appropriate to handle 250+ delegates. • Community large enough to provide accommodations for 250 to 300 delegates that is also price sensitive.
Secure exhibit/display space of about 4000 sq. ft with 80 – 6-foot tables, 75 chairs, power connections and table drapery, good lighting and ability to provide bar services.
Ability to provide workshop spaces able to accommodate 75 people – multiple rooms in use at a time.
Parking and ease of accessibility to hotel, theatre, workshops etc.
Ability to book space two to three years in advance.
Willingness to assist with transportation issues – is it accessible by road, rail and air. If  not, is the community willing to provide ground transportation to and from the nearest major airport.
Indications of community support i.e. municipality, Chamber of Commerce, other arts organizations, business associations through sponsorships and ad sales.
Host has attended/participated in recent Ontario Contact or similar event demonstrating a deep knowledge/understanding of the needs of this event.
Ability to provide volunteers.
In operation for a minimum of one full year.
CCI member participating as part of the bid team.
Additional Assets:
Experience in running/hosting similar festivals or events.
A secondary performing space able to accommodate 130 individuals to be used for 5 min showcases including projections.
Technical team with performing arts experience in place.
Box office able to assist with registrations.
Marketing strategy to cover local public relations.
Wireless access.
Ability to house delegates in a single hotel.
Opportunity for breakfast for about 80 people.
Opportunity for meals – both lunch and dinner for 250 seated.
Meeting room to accommodate 12 – 20 people.
Expectations:
The host community will provide an individual to serve on the Ontario Contact Steering Committee from the time of acceptance of the bid to the year following the hosting of the actual event for a total of three years.
During the year preceding the conference, additional representation from the community will be expected to participate in planning.
The host community will provide financial assistance to Ontario Contact through either a cash grant or in-kind support or a combination of both. In-kind support must be for items or services for which the event would normally have to pay.
The Application Process:
Ontario Contact will receive Expressions of Interest outlining the following:
Ability to meet requirements and expectations as noted above. o Additional opportunities available within the community.
Why the community wishes to host Ontario Contact.
Those communities expressing interest in hosting the event and demonstrating their capacity to host the event will be short-listed to provide full proposals for final selection by the Ontario Contact Organizing Committee. A final decision will be made by September 1, 2014. At that time, the successful community must confirm the booking of appropriate facilities.
If interested in exploring the possibility of being an Ontario Contact host community please forward your expression of interest addressing your ability to meet the requirements as stated above to:
Ontario Contact
c/o CCI-Ontario Presenting Network
Suite 125, 215 Spadina Ave., Toronto ON M5T 2C7
Attention: Cheryl Ewing, Event Manager
519.579.8564
Deadline for Expression of Interest is Tuesday, April 1, 2014