The Canada Council and the Ontario Arts Council launched an interactive, searchable map of dance in Canada.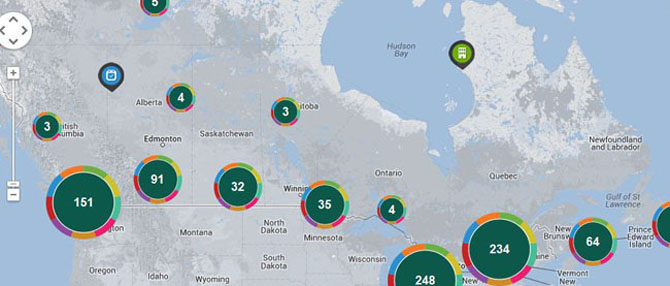 It currently represents 900 dance-related organizations in genres including Asian, African, Aboriginal, European, Latin, classical, folk, contemporary and urban. It includes a national selection of companies, dance schools, festivals, presenters and funders, with so much more to come.
This pioneering mapping microsite is an initiative of the Canada Dance Mapping Study.  Share it far and wide! On Twitter, follow the conversation using the hashtag #yesIdance.
Yes I Dance survey
On November 4, we'll be kicking off a first-ever, nation-wide online survey of dancers, dance-makers and teachers. The survey, called 'Yes I Dance', will be administered by EKOS Research Associates. Results from the survey will also populate the map. If you dance, be part of the survey and count yourself in!
The Dance Mapping Study
The Dance Mapping Study is a major research project aimed at building a more complete picture of Canada's dance ecosystem, its social and economic impacts. The Council is working in partnership with the Ontario Arts Council and members of the dance community and arts funders at all levels. The Study will continue through 2013-14 with reports posted on this site as they are finalized.
Contact
Marlene Alt, Project Coordinator
Dance Section, Canada Council for the Arts
1-800-263-5588 ext. 4115 or marlene.alt@canadacouncil.ca