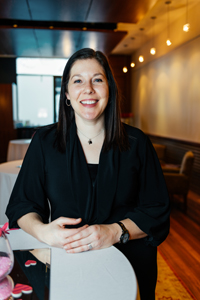 Congratulations to Julie Fossitt, Marketing Manager, Grand Theatre, City of Kingston - winner of the John Hobday Award in Arts Management!
The John Hobday Awards recognize outstanding established and mid-career arts managers in Canadian professional arts organizations. Each year two prizes ($10,000) are awarded for Professional Development and Renewal and Mentorship.
The John Hobday Award will support Julie to earn a Masters Certificate in Marketing Communications Leadership from the Schulich School of Business's Executive Education Centre (York University).
What do you see as one of the biggest trends in marketing the arts? What kinds of skills do you hope to advance in order to take advantage of this trend?
The diversification of media offers incredible opportunities to promote the arts, but the past ten years have completely changed the face of how the stories of artists are told, shared and consumed. The arts offer a wealth of stories to share, and marketers have the daunting task to create that content and share it on multiple platforms. This is a real challenge with very few professional development opportunities in arts marketing in Canada and arts marketers continue to struggle to share best practices and keep abreast of fast-paced changes in the digital world. 
Marketers are now generalists and must be able to reach potential consumers of all ages by translating stories to the right audience. I need to continue to learn about content marketing, data collection and marketing analytics to be able to constantly adapt and change to choose the right message for the right audience in the right medium.  It is crucial to have a formal way to exchange information with other arts administrators in the country and to have the senior marketers passing along their expertise to emerging talent.
Meet all the latest winners of Canada Council prizes. Congratulations to these outstanding artists and cultural workers!
Photo: Adam C Images