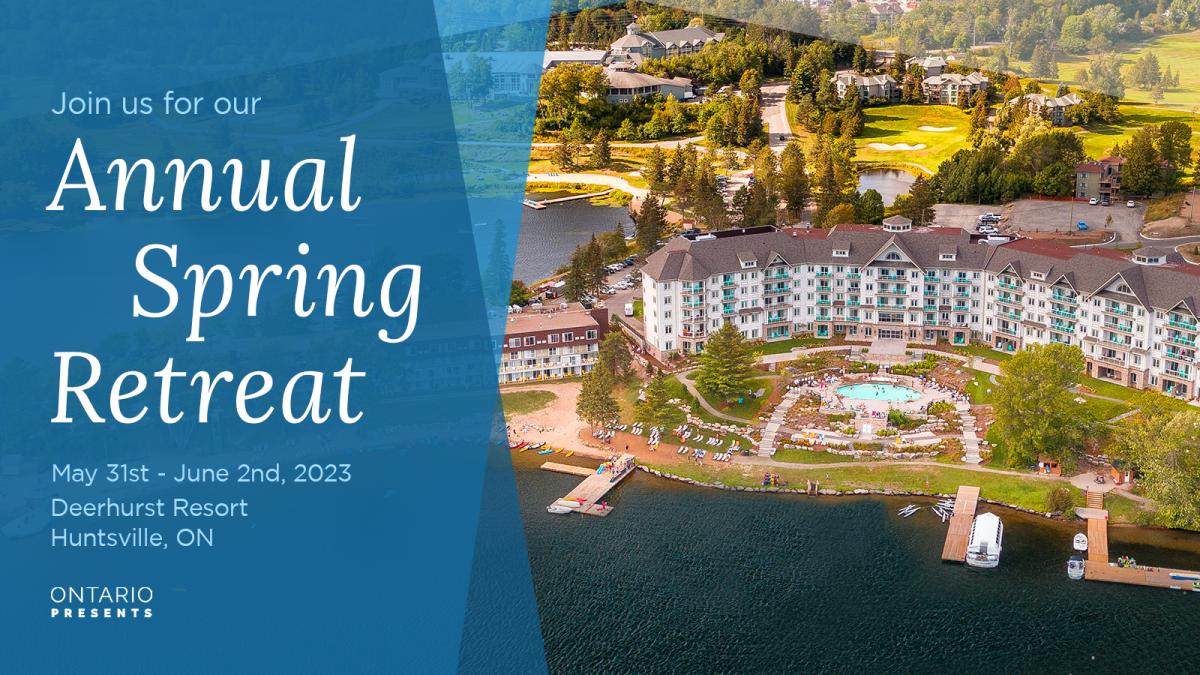 Dear Ontario Presents members, 
Registration is now CLOSED for the 2023 Ontario Presents Spring Retreat! The event will be held from May 31st - June 2nd, 2023 in Huntsville, on the lands of the Anishinaabe, specifically the Chippewa, Ojibwa and Potawatomi Peoples, who respectfully recognize the terms of the Robinson-Huron Treaty #61 of 1850, and the Williams Treaties of 1923. 
Key retreat events will take place on Wednesday, May 31st to Friday, June 2nd, 2023. 
Retreat highlights include… 
Time spent with colleagues

to discuss successes and challenges

Local music showcase
ATC Platform Training Session Ontario Presents New Touring Platform

Workshops on

key practices in presenting
Full schedule and details can be found below
Questions? Please feel free to contact Deb: deborah@ontariopresents.ca | (416) 703-6709 ext. 7
Refund Policy: Until May 12th, 2023, there will be a $50 admin fee for a cancellation. There will be no refund for meals. After May 13th, 2023, there will be no refunds.
Location:
The retreat will take place at the Deerhurst Resort, 1235 Deerhurst Drive, Huntsville, Ontario.
Registration:
The deadline for registering for the event is May 19th, 2023 @ 5pm ET. Full registration includes participation in professional development events and 2 lunches and dinners. 
Full registration - $199 + HST 
2nd person from the same organization - $169 + HST
Thursday, June 1st only - $90 +HST

(includes 1 lunch, 1 dinner and the Thursday Professional Development & Networking sessions)
Hotel Information: 
A very limited number of rooms are available at the Deerhurst Resort. Room rates are $189 for single rooms, subject to an 8% resort fee and 13% taxes.

To book a room, call the number below and quote 'Ontario Presents'.

Deerhurst Resort
1235 Deerhurst Drive, Huntsville, Ontario
1-800-461-4393
Schedule:
Wednesday, May 31st:
Thursday, June 1st:
9:00 am

- 9:30 am

—

Opening the Event Circle & Welcome to the Territory with Hunter Corbiere and Glenn Brown.



9:30 am - 11:30 am

—

Managing Workplace Anxiety workshop with the AFC


In this 90-minute workshop, we will be joined by

Christine Rossi-Wright & Megan Potestio

to discuss

Managing Workplace Anxiety and explore tools and coping strategies to help navigate work-related stress and anxiety and make your professional life more sustainable. This workshop will be followed by a 30-minute Q&A session.

11:30 am - 12:30 pm

—

OP Updates


12:30 pm

- 2:00 pm

—

Lunch at Deerhurst

2:00 pm - 6:30 pm

—

Open time for networking and member meetings 

6:30 pm - 8:00 pm

—

Dinner at

Mill on Main


Please note all travel during the retreat will be your responsibility.

It is an 10 - 12 minute drive from the resort to the restaurant. Please exercise caution and refrain from driving under the influence. Carpools are encouraged. Please dress according to the weather.
8:00 pm 

—

Free evening
Friday, June 2nd:
9:00 am - 12:00 pm 

—

Member Roundtables:

Current Issues in Presenting & Touring and Wrap-up & Closing of the Event Circle

12:00 pm 

—

Lunch