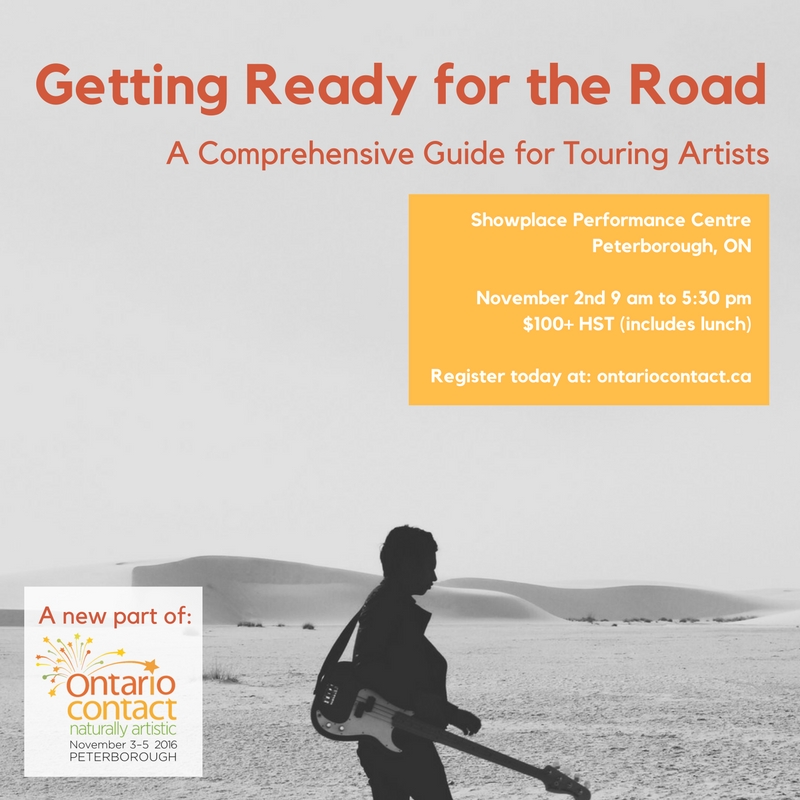 Whether you are a new artist or a seasoned touring artist, this session is for you. If you are looking to tour in Canada, North America, or overseas, you will learn about all aspects of touring, have a chance to audition/pitch and get feedback from knowledgeable and experienced professionals, and participate in roundtable discussion groups geared to your interests and experience/touring level.
Travel Information | Accommodation Information *Special rates available until October 1st! 
SCHEDULE
9:00-9:45 a.m. An Overview of Touring with Robert Baird
There are many factors to consider when planning a tour, from deciding what to tour, how to tour, where to tour, taking advantage of existing networks, block booking, scheduling a tour, crossing borders, dealing with merchandise and instruments, hiring road managers, filing paperwork, etc. This session will provide an overview life on the road, from basic considerations to specific guidelines and checklists which can assist anyone who wants to tour or has toured. (Overview Handout will be given out) NOTE: Last 5 minutes will be Open Mic for questions.
9:45-10:30 a.m. Touring in Canada with Marcus Lundgren
The voice of an experienced artist who has toured extensively across Canada will give you an insight into the booking and geographical challenges of our country.  How do you get a tour across Canada? How does block booking work in Saskatchewan?  With a GPS, do you still need a map?  Stories from the road and more. NOTE: Last 5 minutes will be Open Mic for questions.
10:30-10:45 COFFEE BREAK
10:45-12 Noon Touring in the United States with Mehmet Dede and Robert Baird
South of the Border is a lure for any artist who wants to tour, but getting into the United States to perform has its own challenges. Find out what networks exist and how you can access them, as well as some insider tips on what sells and how to maximize your appeal in this market. NOTE: Last 5 minutes will be Open Mic for questions.
Noon-1:00 p.m. LUNCH 
1:00-4:00 p.m. Canada's Got Talent?
You can register yourself or your group to do a pitch or a mini-performance and have it evaluated by our very own Ontario Contact Canada's Got Talent? Judging Panel. (Robert Baird, Mehmet Dede and Tom Jackson). Each individual or group will have 7 minutes to pitch/perform and the panel will respond immediately with constructive criticisms/suggestions. There is room for 10 artists for this session.
4:00-4:15 p.m. COFFEE BREAK
4:14-5:15 p.m. Roundtables (3X20-minute sessions)
We will break up into roundtables specifically for new artists just starting to tour (Marcus), experienced artists wishing to tour Canada (Robert), experienced artists wishing to tour the United States (Mehmet). Participants can ask specific questions and get to each roundtable in turn. 
5:15-5:30 p.m. (Open Mic)
We will end the day with a summary of what we learned and suggestions for additional learning resources, plus an open mike where participants can ask any final burning questions they might have.
–

ABOUT THE FACILITATORS
Robert Baird
Robert Baird is President of BAM! Baird Artists Management Consulting in Toronto, offering performing arts consulting advice to artists, agents, managers and venues. He is former President of NAPAMA (North American Performing Arts Managers and Agents), served for many years on the Executive Board of Festivals and Events Ontario (FEO), and is a former Vice-President of that organization. Mr. Baird currently serves on the Board of OAPN (Ohio Arts Presenters Network) and as APAP (Association of Performing Arts Presenters) Showcase Coordinator. Mr. Baird has a monthly column on "Crossing Borders" in International Musician: The Official Journal of the American Federation of Musicians of the United States and Canada.
Marcus Lundgren
Marcus is the Artistic Director of the "nearly world-famous" DuffleBag Theatre, an interactive touring theatre company for young audiences that adapts fairy tales-starring members of the audience in the main roles.  Since 1992, he has been touring to theatres and schools across Canada, the U.S., and internationally to places like Singapore, Malaysia, Vietnam, and Brunei.  He is also in his 15th season as director of the Lighthouse Festival Theatre Young Company in Port Dover. 
Marcus first attended Ontario Contact in 1994 and is honoured to be here in picturesque Peterborough to introduce these very talented showcasing artists.
Mehmet Dede
Mehmet Dede is an art presenter, tour producer and educator. Throughout a career spanning 20 years, he has produced hundreds of concerts and event series, including collaborations with Lincoln Center, Central Park SummerStage, the Town Hall and the Kennedy Center in DC. Since 2010 Dede has served as Director of Programming at Drom, a 300 people-capacity club in downtown Manhattan and is co-founder and curator of the NY Gypsy Festival, now in its 12the year. Mehmet has worked on concerts and marketing campaigns for Jamiroquai, Amy Winehouse, The Roots, Norah Jones, Jill Scott, Nelly Furtado, Mark Ronson, and collaborated with high-profile partners Universal, Warner Bros, Epic and EMI. He started his career at Universal Music Group and a Top 40 radio station based in Istanbul. He serves as Assistant Professor at the Hartt School's Music & Performing Arts Management program at the University of Hartford and as Adjunct Faculty at the Tisch School of the Arts at New York University where he teaches courses in concert management, curating and touring. He regularly conducts workshops for artists and managers abroad.
Tom Jackson
Tom Jackson, world renowned Live Music Producer, author of the book Tom Jackson's Live Music Method and the All Roads Lead to the Stage DVD series, is a master at transforming an artist's live show into a magical experience for the audience!
He has worked with hundreds of artists in nearly every genre, including major artists like Taylor Swift, The Band Perry, Jars of Clay, and others, along with countless indie artists and bands, giving them a foundation and direction to define their unique voice and style to showcase their talent.
As a highly demanded speaker, Tom shares his expertise at music conferences and events around the world – from North America to Europe to Down Under – impacting tens of thousands of artists every year. Tom has been guest speaker and on panels at New Music Seminar, Canadian Music Week, Hillsong-Australia, CMJ, and more, as well as major music schools such as Berklee, University of Miami, and Anderson University.
Here's what music industry professionals say about Tom:
"Tom makes a major impact…he's a a true creative partner who helps realize the artist's full performance potential." Matt Serletic, Producer (Santana, Celine Dion, Aerosmith, Matchbox Twenty, Rob Thomas)
"You are only hurting your music career if you are not listening to what Tom Jackson has to say about your onstage performance. If you are a singer, performing artist or in a band performing live and can only do one thing to further your career, take my advice, listen to Tom!" Derrick Ross, Slaight Music (formerly with Feldman & Associates – Avril Lavigne, Diana Krall, Barenaked Ladies)