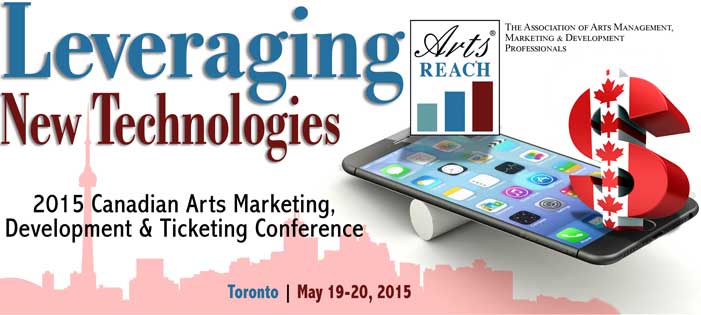 Members of Ontario Presents are entitled to a $130 registration discount to the Canadian Arts Marketing, Development and Ticketing Conference.
Presented by Arts Reach, the conference will take place on Tuesday, May 19 - Wednesday, May 20, 2015 at the 20 Toronto Street Conference Center, Toronto, Ontario
Building on the success of last year's event, the overall theme for this conference is
"Leveraging New Technologies"
EARLY BIRD DEADLINE - GET 2 FOR THE PRICE OF 1 by April 22.
In addition to receiving the lowest price, when one person from your organization registers by March 16 at a $130 discount, another person gets to go for free (2-for-1). Plus, each additional delegate is just $159. Many team-building workshops have been built into the program, and the tuition prices have been structured so that it will be easy to come as a team.
Space is limited at this conference center and could sell out, so it's best to reserve now.
See conference details, including registration and lodging on the conference webiste.