Several months ago we announced the first cohort of the Professional Development for Dance Artists from Indigenous and Racialized Communities program.
This pilot project offers assistance to artists from Ontario and Quebec who identify with Indigenous or racialized communities. Inspired by the success of Jouer dehors, the project's aim is to develop dance production skills. 
Our partners at La danse sur les routes du Quebec have created a gallery of tour-ready or in-development works by the six participants in this program. Click here or see below for more information!
Project partners: CanDance, La danse sur les routes du Québec, and Ontario Presents
This project made possible by: The Québec-Ontario cultural exchange program (the Government of Quebec and the Government of Ontario) and the Conseil des arts de Montréal.
Artist guides: Barbara Kaneratonni Diabo and Lee Bolton
Partipating artists: Aicha Bastien-N'Diaya, Andrea Pena, Aria Evans, Ivanie Aubin-Malo, Natasha Powell and Nova Bhattacharya 
Current Works:
Click here to read more about these tour-ready or in-development works by the participating artists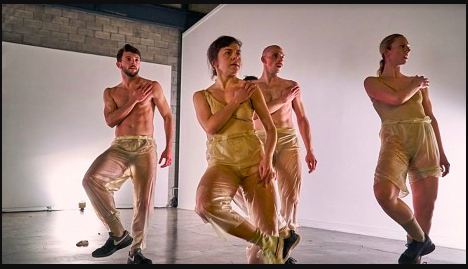 6.58 presents an unusual, sensual, and rhythmic exploration of artificiality within our contemporary society, as three disarticulated Tableaux. 5 dancers in conversation with the hegemony of a machine, opera singer, and DJ, encounter artifice as a seductive force that wraps our experiences, interactions and notion of a future human.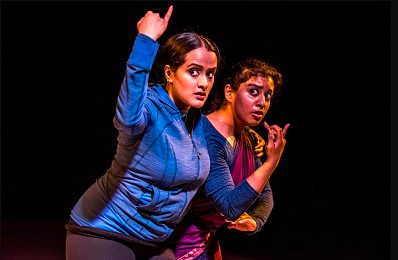 Decoding Bharatnatyam showcases the work of Nova Bhattacharya and her passion for riffing off of classical Indian bharatnatyam technique to stunning effect. Beginning with a shared ritual of namaskaram with the audience and proceeding through three dances to share her unending adoration for the multi-disciplinary form. Broken Lines (2016), a duet for Neena Jayarajan and Atri Nundy is 'a radical work that pulls apart notions of power, tradition and ritual'; Alaap (2013) for Lucy Rupert is a thoughtfully crafted meditation on the creation of the universe; and Calm Abiding (2006), is the celebrated solo for Bhattacharya commissioned from Venezuelan born, Montreal choreographer José Navas.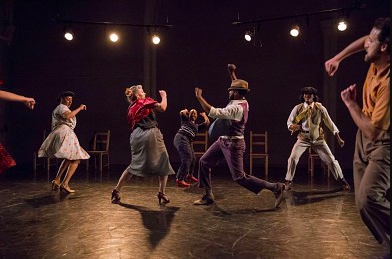 FLOOR'D is a soulful and propulsive performance of dance, live music, and raw energy, all in the spirit of jazz. FLOOR'D draws inspiration from Katrina Hazard-Gordon's renowned book, Jookin: The Rise of Social Dance Formations in African-American Culture.
The work showcases the dynamics, relationships, and interactions of dancing bodies inspired by the arena of jook houses and how these bodies compose music - jazz and the blues. Dances in the jook included the Charleston, the shimmy, the snake hips, the funky butt, the twist, the slow drag, the black bottom, the fish tail, and the grind and more.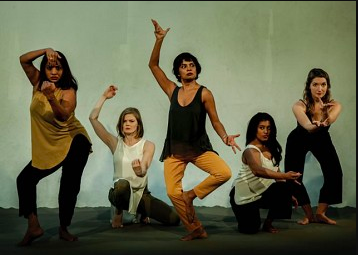 Performed by five women, (bharatnatyam and modern trained dancers) it has been described as "bharatnatyam Frida Kahlo" in reference to the way it asks the audience to sit with images of pain, proposing it as a metaphor for the state of our world, and then offers hope that we can be resilient through strength, community and compassion.
Conceived from the question "what do all humans have in common?" and using the scientific fact and beautiful metaphor that we are all made of stardust, In The Abyss looks at the inescapable connections between the galaxies beyond us and our earth bound lives. Set on a rooftop with projections of the night sky and original music by up and coming composer Babak Taghinia, In The Abyssgrapples at how to live with purpose and find meaning in the journey with honest explorations of loneliness, our search for connection as well as light-hearted, humorous observation. In The Abyss makes the connection that we need both darkness and stars, beauty and pain, to fully appreciate where we all intersect.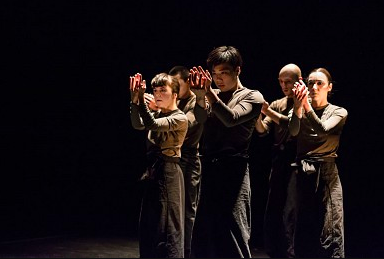 An expression of the human manifestation of individuality amid the constraints of a homogeneous society. Kairos carries its audience through coruscating harmonies of solitude and community in waves of kinaesthetic and physical synchronicity that mirror the bonded moments of shared or mutual consciousness.
Kairos, a well-made investigation of individuality. Detail in the scenic transitions and striking imagery gave it a gothic, angels versus demons quality, sort of like a medieval triptych come to life, darkly atmospheric.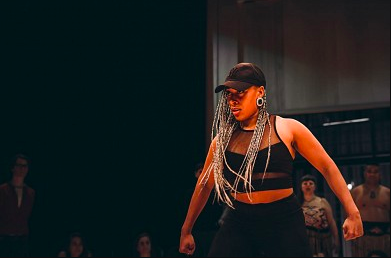 KHA' is a word in the Huron-Wendat language that means "here". Strength, resilience and vulnerability. This solo choreographed and performed by Aïcha Bastien-N'Diaye suggests a striking amalgam of movement and words. Her work carries a clear and current message: cultural diversity is a strength. This piece draws its inspiration from resemblance rather than differences. A powerful relationship between traditional African gestures, Indigenous, and urban dancing intertwined with a contemporary approach. Waves leading to stillness, and tremors transferring into the ground. A sole body moving through space, a pair of moccasins, a voice and percussion. Drenched in darkness, sections subtlety interlock. This short work is sure to keep both the public and the performer "here".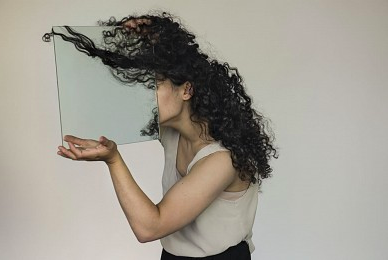 Mula means going deep in Wolastoqewi, Maliseet language. Ivanie's flesh is inhabited by a recurring dream that haunted her youth. With the intensity of a loud, howling cry, a male voice would speak out of the darkness: "You will never go away." This powerful memory keeps her grounded, guiding her towards her Maliseet roots, dance, integrity and truth. On this journey that is akin to a dream yet grounded in reality, the eagle's piercing eyes find the pathway and the bear is the nurturing mother. From within Ivanie's body, something fights fiercely to break through to light: the butterfly must crack open her cocoon.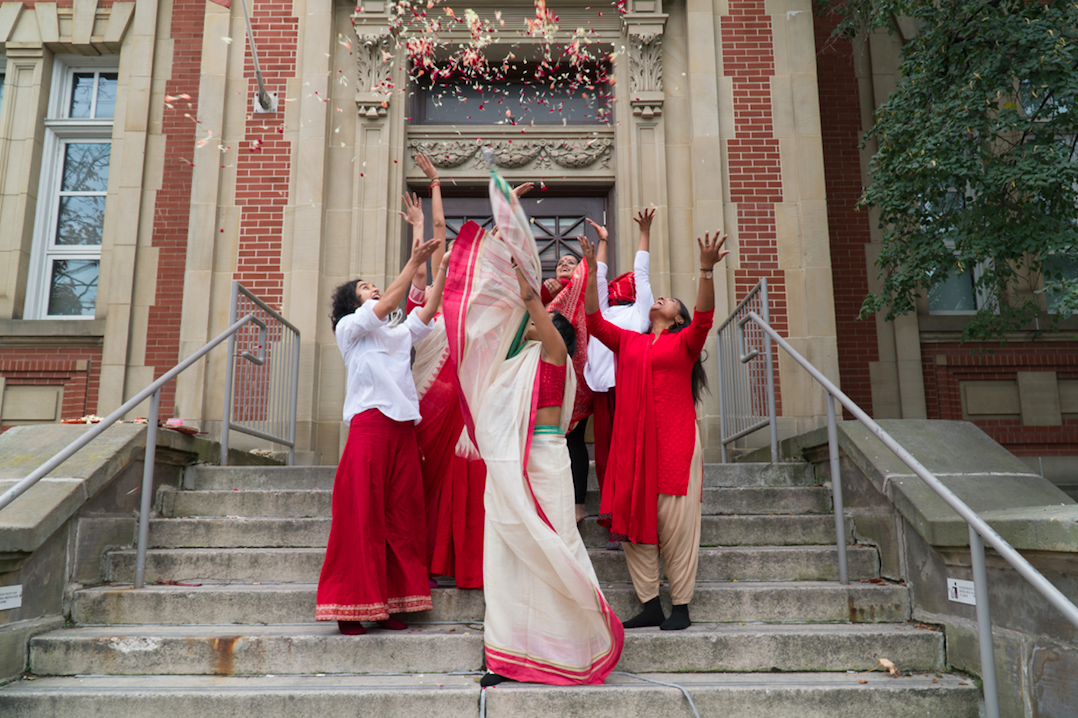 An epic pagent of dance, chant and ritual. Cast of 15, augmented by a body-choir to be developed through residency in local communities. Premiering in the fall of 2020, and embarking on a national tour including BC, Nova Scotia and Ontario.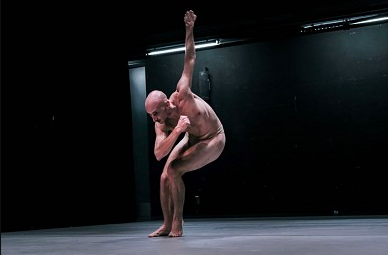 Untitled I, is an intriguing and magnetizing solo performance which inquisitively explores human resilience. Resilience as the capacity of a strained body to recover after deformation, where body and individual surrenders and is transformed by alterations in its experience. A vulnerable, silent and harmonic repetition after repetition, the half-nude body creates an atmosphere of ever changing phases; phases of which the audience patiently observes for the resilience of the dancers to prevail.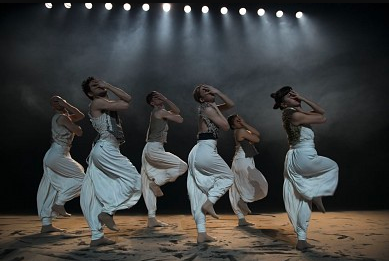 An immersive universe enveloping the audience amongst the rawness and complexity of humanity's subconscious workings. A sequel to Kairos, Zero Uno Uno Zero presents a collective of bodies in dynamic gestural agitation, undergoing a nebulous journey of collective and individual euphoria. An intricately rich choreographic universe that connects the rawness and celebration, joys and absurdities of people and their connections to a world that is ours.
Photos (from top to bottom) by: Romi G Benneli, Dahlia Katz, Tamara Romanchuk, Ed Hanley, Aria Evans, Romaine Lorraine, Myriam Baril-Tessier, Justine Latour, Ed Hanley, David Wong, and Bobby Leon