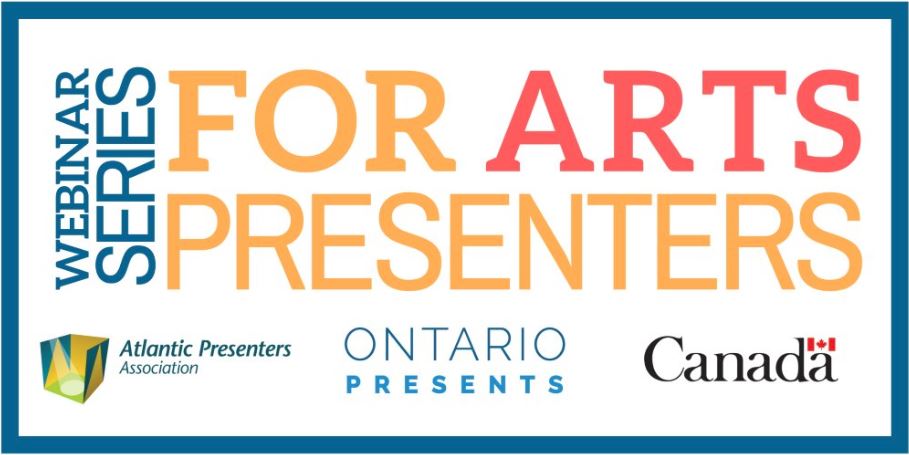 "The webinar format is excellent - no long drives to a meeting!!!"
Ontario Presents and Atlantic Presenters Association launched their "Webinar Series for Arts Presenting" in November 2014, with support from the Department of Canadian Heritage. The series was designed to provide performing arts presenters with quality professional development. 
2019 Season:
January: Self-care for Presenters
Tuesday, January 15th Noon EST
Facilitator: Matthew Eldridge, Clinic Coordinator at the Al & Malka Green Artists' Health Centre
Stress: we all have it, now what do we do about that? In this interactive workshop, we will explore how stress impacts our physical and mental health, and learn specific, evidenced-based, self-care strategies to manage the ongoing stress of arts administration.
February: Diversity and Inclusion: Training Your Volunteers
Tuesday, February 12th Noon EST
Facilitator: Jael Richardson, Writer, Columnist, Art Director at the Festival of Literary Diversity (FOLD)
Diversity and inclusion are not just buzzwords. They are vitally important aspects of everyday living. Inclusive practices are critical to the overall success of an organization, and everyone involved in arts presentation —  from the chair of the board to volunteer ushers — needs tools to perform tasks with thoughtful inclusion, rooted in empathy. This webinar will address how to train volunteers to ensure that every artist, audience member, staff person, and volunteer feels welcome at events and performances.
March: Introducing the Volunteer Resource Centre
Tuesday, March 12th Noon EST
Facilitator: Ceilidh Wood, Network and Touring Coordintor, Ontario Presents
Did you know Ontario Presents has an extensive selection of resources available on our website? With our new resource centre, it is easy to find what you need, or browse through topics of interest. In this webinar, Network and Touring Coordinator Ceilidh Wood will walk you through what is available and how to make the most of it, whether you are just starting a presenting series or you've been doing it for 20 years.
April: Community Engagement in Practice
Tuesday, April 9th Noon EST
Facilitators: Alyson Martin, Sioux Hudson Entertainment Series and Annalee Adair, Public Art and Community Engagement Consultant
Join community engagement consultant Annalee Adair and volunteer presenter Alyson Martin as they walk us through the process of executing a successful community engagement project. Annalee and Alyson will reflect on the steps, challenges, and rewards of their 2016 project Matters of the Heart, carried out in Sioux Lookout, Ontario. 
Who should participate?
The series is designed to help volunteer to mid-size presenters access quality professional development. There is no fee to participate. The series is customised to presenters' needs and interests and is meant to be interactive. Participants are able to provide input and ask questions by email or survey in advance as well as in real time via chat in a friendly, non-intimidating learning environment.
"Keep these webinars coming. I am enjoying them all. It is hard when you are in a small town to have access to these kind of seminars. Thank you for presenting them."
There is no cost to participate. All you need is a phone line, computer and a high speed internet connection. Participants may join our virtual classroom by accessing a video stream of the webinar online and the audio feed by teleconference.
"[Adobe webinar platform] is an excellent tool. Makes participation much easier, since you can do it from any location with a phone or internet connection."