Ontario Presents and its member presenting organizations recognize the importance of presenting Indigenous artists, stories and culture as part of their presenting practice. As we continue to encourage the respectful presentation of Indigenous art, we will be featuring an Indigenous artist each month in our e-newsletter and blog. Our sincere thanks to Denise Bolduc for conceiving of and continuing to support this Spotlight Series.  
Started in 2018, the Indigenous Artist Spotlight series is intended to foster greater awareness and understanding of the strength and diversity of Indigenous art available in Ontario and beyond. As Indigenous and non-Indigenous artists face an incredibly difficult time, we will continue to spotlight inspiring Indigenous artists. The next several spotlights will feature artists who will perform at the inaugural Nogojiwanong Indigenous Fringe Festival. 
Find all of our past Spotlight interviews here.
This month we spoke with  Elder Shirley Williams about her piece Residential School Dances and her extensive work teaching Anishinaabemowin: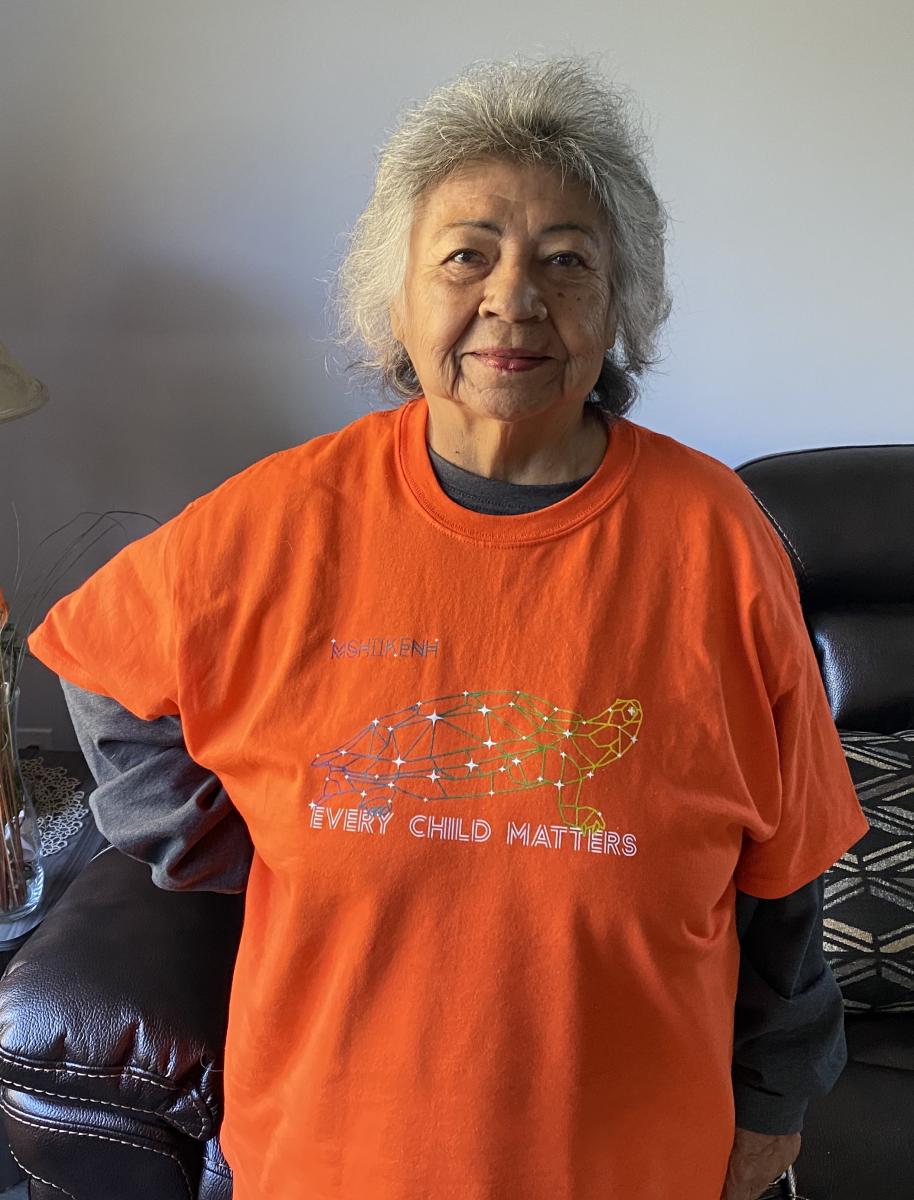 Elder Shirley Ida Eliza Williams is a member of the Bird Clan of the Ojibway and Odawa First Nations of Canada. She was born and raised at Wikwemikong, Manitoulin Island and attended St. Joseph's Residential School in Spanish, Ontario. She holds several degrees, include a BA in Native Studies, a Native Language Instructors Program diploma, and an honorary PhD. Shirley is a long-time teacher of and advocate for Anishinaabe language and culture. Now retired after 18 years teaching at Trent University and 18 summers for Lakehead University for NLIP, she continues to teach on a part time basis at Trent and other educational institutions, and to sit as an Elder for numerous organizations. 
You have an amazing story and so many accomplishments, there is so much I could ask you! Could we start off with an introduction? 
My Anishinaabe name is Migizi ow Kwe which means the Eagle Woman. I am from the Bird Clan. I was born and raised in Wikwemikong, Manitoulin Island. 
Can you talk a bit about what you do now? I know you do a lot of teaching… 
I'm retired, I retired in 2004, but I've been working on writing and publishing language books for language speakers. Because when I first started here at Trent University there was no text for the students. There was no standard writing system. So when I went back to school in Thunder Bay…I went to learn how to read and write in the language and got a Diploma from Lakehead University for the Native Language Instructors Program. 
There was no written language in Anishinaabemowin. Over the years we have been trying to read and write, but we have had to borrow the English phonetic writing system, English writing. It was inconsistent … we just wrote the way the words sounded, so it became very confusing for the students. Thus, we had to come to a decision to have a better writing system, and the Double vowel writing system was introduced. 
The Native language teachers who went to Lakehead University really adopted that writing system. Actually, it was a linguist who did research for the Algonquin language, researching on the sounds of the Algonquin language, which is the mother language of subdivision of Ojibway, Odawa, Potawatomi.  We had to decide, how good was it? He told us that we could use it if we wanted to, if we found it easier we could adopt it… We adopted it, and it's become standard now. However, there are some other people who have not adopted it yet, they are still doing the phonetic writing system. Which is kind of confusing too. But that's the only education that they have, which is the English writing system.  
But the Double Vowel Writing system, it's consistent… we found out that we have 7 sounds that we don't have. F, l, q, r, u, v, and x. We don't have those sounds. And we also have two unique sounds in Anishinaabemowin, which is the nasal sound, and another sound called glottal stop which is the catch in the throat sound. 
… it's been kind of difficult because not everybody reads the double vowel writing system or cannot read. But even though they haven't taken the language in how to read and write, they can read it, once they know the sounds. 
So that's what I've been doing is writing books and dictionaries, stories. And I developed course material that I used when I was teaching here at Trent, which is being used in other colleges and universities. 
I did read that you're retired but also about all the things that you've been doing since 2004, it sounds like you're barely retired. 
Barely retired, that's what everybody's saying… 
I do my part, I wrote my memoirs on my early childhood, both in English and Ojibwe (or Anishinaabemowin). And I'm on the second volume now which is my Residential School life and education, and the third volume which I plan, I hope I'm still alive, is telling the stories of what I do now. 
As an elder I've been involved in many things. I've been guest speaker with the University of Toronto, Durham College, Sir Sandford Fleming College, Law School of Windsor and Waabano Centre in Ottawa…  and different schools like day schools, or around here just teaching about language or culture.  
I noticed that you wrote your memoir in both English and Ojibwe, and obviously you've done all of this work teaching language. Were you always fluent in Anishinaabemowin? As a residential school survivor, did you have to relearn your language or were you always fluent? 
I've always had it. I didn't go to school until I was 10 years old. My father kept me at home until I was the age of 10. They tried to come and get me when I was 7, but he stood his ground and said that he was going to homeschool me, but he didn't say in what language. 
It was a traditional education. He taught me about many different things. Names of trees, plants, water, all of these things he taught me from 7 to 10 years old. I don't know if he knew, but he must have had a sense that if I was 10, that the language would always stay in my brain and they would never be able to get it out of me. 
… I didn't know one word of English when I went to school. But I had to learn it fast because if you didn't speak in English, you got a strap. If you spoke the Anishinaabemowin language, you got a strap. 
I understand that the piece that you were supposed to perform at NIFF is about your experience in the residential school, but told through dance. Can you talk a bit about that? 
… [In the residential school] they tried to teach us other dances, other than our own kind. We never learned how to dance in our own way, or hear our own music… what we learned was Ukrainian dances, Irish jigs, Scottish highland fling, English style of dancing like ballroom dancing.  
…I had a hip replacement, so I knew I had to train somebody to dance for me, and I was going be the narrator. But I was going come out at the end and at least make an effort to dance a little bit. 
… I went to Value Village and I found, just roaming around and you never know what you're going to find. I found a top that matches a Ukrainian outfit. I got a white skirt that goes with it. You know these… Ukrainian outfits with the flowers around their head… that's what I was planning on. And I asked one of the students who was Ukrainian to help me… 
When everything got cancelled because of COVID-19… the event was cancelled! But I still plan on doing it later on. I started to write the script, but I never got finished cause there are so many things I am doing! But I have it all in my mind, what I was going say and what we were going to do.
I hope we get to see it! 
I hope this COVID dies down… if everybody participates maybe the sickness will go away. 
I noticed that you're doing a Zoom meeting with Durham College students and it made me wonder how you're adapting your teaching in this COVID time, what's that experience been like for you? 
Well I still have slides that I use. Right now it's just, beginning with Durham College, it's preparation for college with Native students. Just to talk about my personal encounter, how afraid I was when I first went back to school… I was a mature student when I went back to school. 
What was that experience like for you? 
Scared. Frightened. Wondered how these young people were going to accept me. 
Because I went to school at the age of 10, all the kids used to make fun of me… They would ask me how old I was and I was so proud to say that I was 10. But they made fun of me, they said, "10 years old… you must be really dumb." 
And then I thought, "I wonder if the young people who are going to university now, how they will look after me or accept me or see me." And because I was a Native person also, how they were going to look at me. 
There were a few incidents… the look of "what are you doing here?" That type of thing. Because I was dark and, you know… you just know, because I encountered racism all my life, so I know the look. 
It's amazing that you were able to persevere through all of that and make your life in teaching culture and language in universities and educational institutions. It's really inspiring.  
Well I got an honourary PhD three years ago and in Native education, I was on the taskforce for improving Indigenous education in the school system… 
The other thing that I worked on for 5 years was the Indigenous Physicians of Canada. We noticed… our own people are not accepted into medical schools…  have never got rid of that feeling of not being accepted. The Anishinaabe students really had a difficult time going into medical schools, wanting to become doctors or nurses but never had a chance. 
There were already Indigenous doctors working in hospitals who succeeded in the system already and they know the system and how it works. They started Indigenous Physicians of Canada, and they wanted to bring the issues for Anishinabek people in order to get into the university, or to be qualified in order to enter university. So I was the Elder for that. We went through many different things, like looking at the criteria, are there seats for Aboriginal students if they want to get into a teaching hospital … We looked at all those things, to make it easier for the Aboriginal students to enter university… 
We have a few medical doctors already now, and a lot of nurses who went through the system in order to become a nurse. Our people were saying that there's a need for our own people to nurse our own people. Because what they experienced was white nurses working in Native communities and not accepting the Native people… they didn't know how to ask questions… there are cultural things they'd encounter when talking to a patient and that. So we had to do a lot of teaching for nurses and Doctors who were going to medical school… to take a course in Indigenous studies to learn… 
There are so many things I could ask you about, you've had such an interesting life! As we wrap up, if there is anything else specific that you'd like to share? And in particular, what you've enjoyed most from all of your years of teaching and sharing your culture and language? 
I just want to say that I also do the Water Walk, because my people have been concerned for the water. It's being polluted and we wanted to bring awareness to many different people in many different cultures, to take care of the water because it's being polluted. How are we treating the water? How do we look at the water? What are we putting in the water? Water Is life, without water, we cannot survive as human beings … water lakes and rivers or the ocean is not a garbage dump… yet there is a lot of garbage being thrown into the lakes without any consideration as to what it will do to the water. 
Actually it was a woman that I went to school with at a Residential School, who started the walk - Josephine Mandamin. She did the Great Lakes Water Walk and the Four Directions Walk. She's now passed away, but there is a film that's going be coming out about her… The Great Lakes Water Walk that we did here in Toronto… it's coming, probably this year. 
… I guess one of the things that I really enjoy after teaching is students coming up to me. Not too long ago, I was coming from Manitoulin from a funeral… about 10:30 at night, I stop in this Shell station… and when I pulled up there was a truck there and people looked at me and I could hear somebody yelling away in there. So I thought, "oh boy". Then I saw a man running around in front of the van and coming straight to me… and he was yelling "Professor Williams!" And I rolled my window down and he says "remember me? I was your student in 1987!" I didn't remember… after thinking about it I recognized his face, but I didn't remember his name, I didn't remember too much, but he was so excited to see me. And I thought that was so neat. He says "thank you for all of the teachings that you gave." 
Another comment from another student, he said, "I came to thank you personally because I never would have gone through the university if it wasn't for you. The culture and the way you taught about the culture and how to appreciate the language and the worldview. I didn't know the names of the animals or trees, now I know them. I wanted to tell you that you really taught me a lot, how to appreciate the world." And another said, "Now I know how to approach Native people if I have a chance to work with them. I really appreciate your culture." 
… So those are the kind of things that I am grateful for, for the students to have learned and taken something, that I really enjoy. It really has meaning for me because I'm so glad to hear that they got something out of it. 
Thank you to Elder Williams for sharing her stories with us! 
This interview has been edited for length and clarity.