Ontario Presents and its member presenting organizations recognize the importance of presenting Indigenous artists, stories and culture as part of their presenting practice. As we continue to encourage the respectful presentation of Indigenous art, we will be featuring an Indigenous artist each month in our e-newsletter and blog. Our sincere thanks to Denise Bolduc for conceiving of and continuing to support this Spotlight Series. 
Started in 2018, the Indigenous Artist Spotlight series is intended to foster greater awareness and understanding of the strength and diversity of Indigenous art available in Ontario and beyond. As Indigenous and non-Indigenous artists face an incredibly difficult time, we will continue to spotlight inspiring Indigenous artists. 
Find all of our past Spotlight interviews here.
This month we spoke with dance artist Margaret Grenier.
Just a quick icebreaker, what are three fun things that you enjoy doing? 

Wow, I guess some of the things that I enjoy doing are being outdoors, seeing the mountains or canoeing and spending time by the ocean. I also have two little grandchildren who bring quite a bit of joy to my life. I love being with children. And I enjoy cooking food and trying new, interesting things. And traveling!
That's four but thank you for sharing! How about you introduce yourself, your organization and the work that you've been doing. 
Sure, my name is Margaret Grenier and I am the Executive Director, and Artistic Director of the Dancers of Damelahamid and the Coastal Dance Festival.
The Dancers of Damelahamid started back in the 1960s, under the leadership of my grandmother and parents- Chief Harris and Elder Margaret Harris all of whom have passed. My mother passed last year. On my father's side, I'm Gitxsan and on my mother's side, I'm Cree. But growing up in the Northwest Coast of B.C., my connection to the dance histories, the land and the history of the land, was all tied together and a really big part of who I was as a young person.
In the 1960s, dance was not practiced within my family or even within the region. It was just after the Potlatch Ban had been lifted. Our family is very fortunate that my grandmother, Irene Harris, documented and maintained the cultural knowledge and oral histories of the dances. And although she was quite elderly at that time, she mentored and helped to bring the practice of dance back within our family. There really wasn't anything- there wasn't any regalia because they had all been confiscated.
My grandmother attempted to protect some of our family art pieces by hiding them within the walls of her house but there was a fire that left us with only a few items. Even the songs that were recorded originally, were done using wooden spoons and pots as drums. So, in the 60s and early 70s, it was about rebuilding everything, and I was fortunate to be born in the 70s. My earliest memory is being immersed in the experience of dance. I did not have to live through that time of loss of practice, but it helped me to define myself. 
So do you think that maybe this pandemic is sort of your time to rebuild? How has COVID-19 impacted you?
I think the pandemic certainly has been a time to reflect on how we look at everything. There's been a couple of cycles. However, when my father passed away in 2010, there was a profound transition for myself and for the work that our company produced because he held the songs and the stories and their dances in a very specific way. And it was only after he passed that we began to look at contemporary stories and contemporary approaches, rooted still in the foundation of the traditional form. 
In all of the stillness that the pandemic has caused and how it coincided with the loss of my mother, I've learned what it means to transition from one generation to the next. All of my relatives- my uncles, and aunts have already passed. So we're in a place where all of our immediate family elders are gone. Although they taught us and laid the foundation, what does it mean to carry that forward in our own form of our leadership? 
The pandemic has given a lot of time for reflection and also made it clear how important the gathering and the practice and everything is when we have the opportunity to do so. There's a real connection between our health and well-being and when we are able to dance together and to be, you know, living the experience of these practices.
I'm so sorry to hear you have been going through such a difficult time – can you share what has kept you motivated through the pandemic and the loss of your mother?
Having seen the changes that I have and the resiliency manifested in the lives of my parents' generation over the last number of decades keeps me motivated. It's important to have a vision that's long term and to know that it's not about what is created or shared tomorrow, but about what will be ultimately passed forward. And how this practice is going to define and nurture the next generation. But, there will always be moments when we will be impacted in such a way that we will either feel great loss or feel very stagnant. But ultimately, these times pass and we rebuild again.
In that same mindset, what's your ideal vision or hope for after the pandemic? 
It's important to listen closely as life unfolds itself and to let ourselves be guided by that. And to try to be patient. Throughout this past year I kept thinking "Oh in the next few months, this will happen. In the next few months, something else will happen." And it just keeps getting pushed further forward because we can't imagine how long everything will take. So if we move forward, our company is going to have a very specific focus. It's very important for me to mark the legacy of my mother in particular. 
It goes beyond just remembering something, we have to ask ourselves how we are learning the teachings that are inherent to the dance practice and how do we articulate them through the work that we're doing. So the next work that we do will be very personal. It's a healing practice; the knowledge of our ancestral teachings is there to help us to do exactly that - find a way forward to do the work. 
Have the Dancers of Damelahamid been doing anything in person and have you been able to rehearse or gather in smaller groups?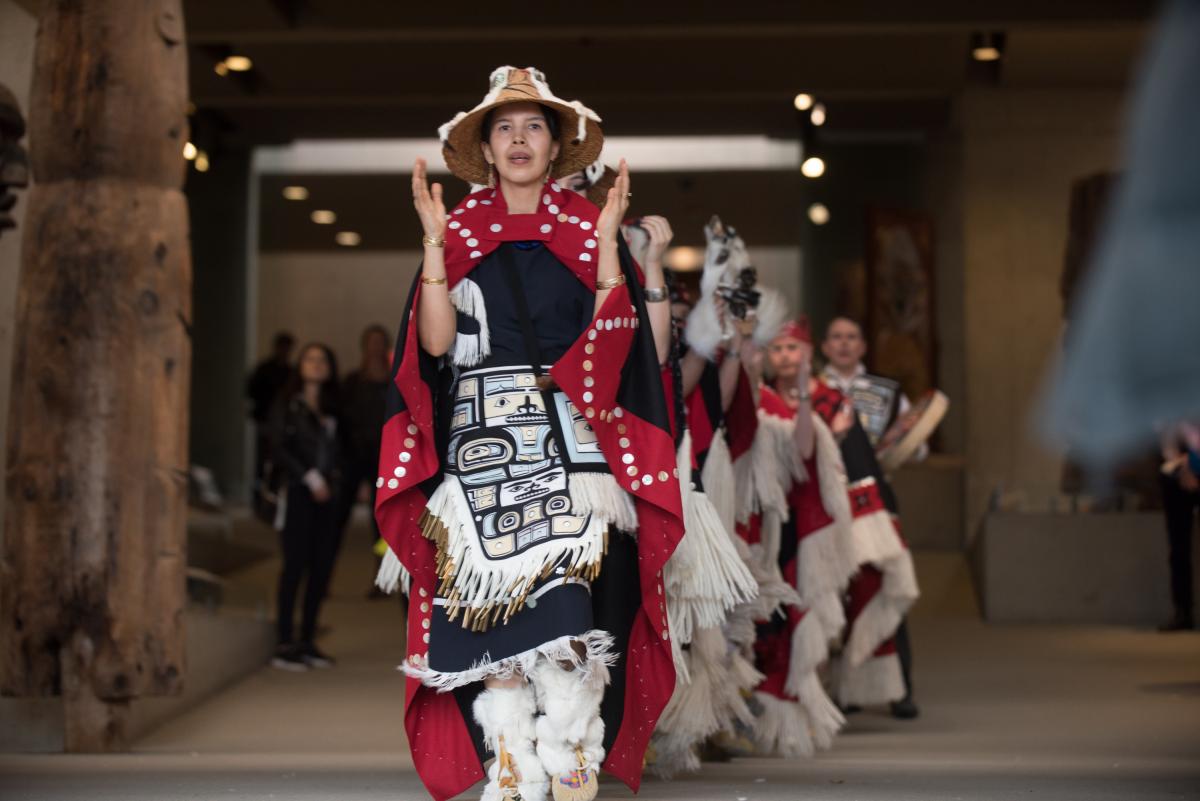 It's been minimal. I also noticed that even an online performance requires artists to put themselves in vulnerable places to go into the theatre. It can be stressful so we try to keep things minimal. 
But in October we did a remount of Spirit and Tradition, and it was then presented by New Works in the Dance Center in Vancouver. With that project, I saw how important it was to share song and dance through the response that we received, even though it was online. It uplifted those who watched and gave us feedback. We also produced the Coastal Dance Festival online in March. We shared a number of artist stories in the form of song or dance and stories. It turned into something really beautiful.
I'm glad that you've been able to get some work out into the community. Let's segue, can you talk a bit about the experience of receiving the Walter Carson award and how your practice has unfolded since then?
When the nomination was put forward, I didn't really see myself or imagine that I could win the award. I felt that it was important that Indigenous artists were having their names put forward. And so I was extremely surprised when I found out.  
It's caused the recognition of something much larger than myself - the importance of the work of revitalisation that has been done within this dance form. This dance form is thousands of years old and has been carried with such importance. Understanding what that means is a struggle. And so the recognition of the dance, the significance and the intricacy of it, is something that I see reflected in receiving the award.
In terms of myself, my practice has always been very specific and very close to heart. The motivation and the essence of everything remains the same, where we share our work, and how we share our work will always be based on building relationships.
Final question, do you have any advice for young Indigenous dance artists?
I think that it's important to always have as many voices as we can so I encourage everyone to try to find their way. It will not look like anybody else's and we must ensure that we are sharing is validated. So I hope that Indigenous artists flourish so that we can have representation of all the beautiful things in our country. We have to bridge understanding with Indigenous art, Indigenous history, tradition, and contemporary practices.
Find Margaret on: Facebook | Website
Thank you Margaret for sharing your story with us! 
Photo Credits: Ana Pedrero & Chris Randle