Indigenous Artist Spotlight: Starr Muranko
Ontario Presents and its member presenting organizations recognize the importance of presenting Indigenous artists, stories and culture as part of their presenting practice. As we continue to encourage the respectful presentation of Indigenous art, we will be featuring an Indigenous artist each month in our e-newsletter and blog. Our sincere thanks to Denise Bolduc for conceiving of and continuing to support this Spotlight Series. 
Started in 2018, the Indigenous Artist Spotlight series is intended to foster greater awareness and understanding of the strength and diversity of Indigenous art available in Ontario and beyond. As Indigenous and non-Indigenous artists face an incredibly difficult time, we will continue to spotlight inspiring Indigenous artists. 
Find all of our past Spotlight interviews here. 
This month we spoke with dance artist Starr Muranko.

Welcome, Starr! Please introduce yourself and your practice to everyone.
My name is Starr Muranko and I'm a dancer and a choreographer here in Vancouver. My mom's side of the family is from the Moose Cree First Nation in Northern Ontario and we also have French Canadian roots on that side of the family. Then on my father's side, we're Prussian from Germany. I was born in Stratford, Ontario but came to Vancouver when I was very young and this is where I call home now. I live in North Vancouver, which is the traditional territory of the Squamish Nation, Tsleil-Waututh Nation, and Musqueam Nation. I'm a contemporary Indigenous dancer and Artistic Associate with Raven Spirit Dance.
Wait, what does contemporary Indigenous dance mean? 
Yeah, that's a good question. I think that all of us try to think about that too. What does that actually mean? To me, contemporary dance refers to the form that when people see it, they would probably identify it as contemporary dance in terms of structure. 
What I believe makes contemporary Indigenous dance is based on a worldview that the work I create and the source of the stories are within me, within my lineage, and within the land that I'm connected to. And so, I feel like the work itself would look similar to contemporary dance, but then what holds it is the worldview of an Indigenous perspective.
That's so interesting. So even though it looks contemporary, it is Indigenous at heart? Isn't that a little bit confusing? My understanding is that Indigenous dance is spiritual and has a religious element, so if you take a contemporary approach to the dance form, doesn't it lose its authenticity?
Well, I think it's interesting - the differentiation between contemporary dance and traditional dance. There's a lot of traditional dancers that do a traditional dance form, but they're obviously living in a contemporary society. We're living now in 2021. And so, I very much consider them contemporary Indigenous artists. Their form is a traditional form, but they are contemporary artists. 
My form would be more contemporary dance but at times I may draw on images or movements that may reference a more traditional form. It might be part of the research process, or maybe there's a gesture or a movement that I am looking at. For example, there's a new solo work that I'm creating, it's very much contemporary dance, but there are small references to traditional steps in a certain section. If people are familiar with the traditional steps, they would be able to be like, "Oh, she's referencing that traditional step connecting to the ground or the earth". It's almost like codes that people would understand or know. 
And when I'm doing it, I'm like, "Okay, yeah, that's actually my traditional step that I've inserted". Which means something to me at that moment because of the part of the story that I'm trying to tell. 
So I feel like with Indigenous dance, for so many years, people have talked about it being traditional vs contemporary. I think that a lot of us that are working in this way now realize that it's not so black and white. It's not this binary thing where it's one or the other. I think that it's almost a third thing. We are contemporary artists living in this time, but we're drawing on all the things that make us who we are and that can span across time and space.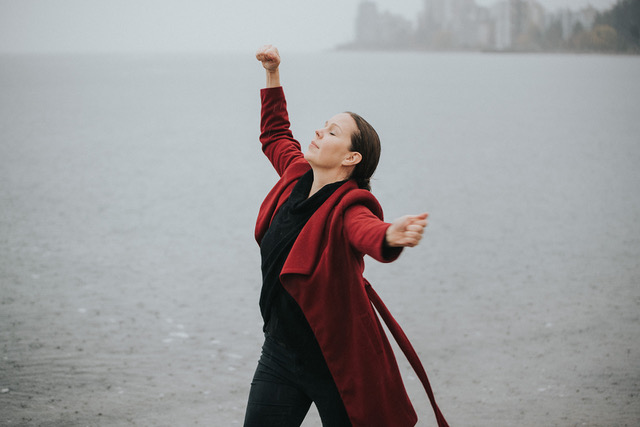 For example, for me, that would include my grandmother's traditions and dances, my training at a contemporary University dance program, that kind of thing. So it's a way that we can bring all of ourselves to our artistic practice. 
I've heard of traditional dancers being told that they're not contemporary enough and contemporary dancers being told "Oh, that's not traditional enough, that just looks like contemporary dance." And "Where's the Indigenous part of it?" So it's liberating, and freeing to be able to be in both worlds. 
It's also about being clear when I am connecting with something traditional, and knowing where that tradition comes from, my connection to it, and being able to speak about it. And not just seeing something that looks interesting, and then throwing it in a dance. It's not putting the Indigenous on top as a decoration, it actually has to come from inside of you and be grounded. 
So you touched on this a little bit, but what do you think sets you apart from other Indigenous artists?
Hmm. Well, I'm a part of a larger circle of artists. We're all individual choreographers, doing our own work but there is a common thread that connects us all. And there is that mutual understanding so that even though we come from different nations and different backgrounds, there is a way of seeing the world that I think connects us. 
So to answer your question of what stands me apart, I almost feel like it's the opposite. It's about what connects me to those conversations. I love when I see another Indigenous artist's work on stage and there's a part of me that understands and identifies with what I see as a reflection there. 
I really identify with connecting to something larger than myself and being a part of that and adding something meaningful. 
Wow, that's such an awesome perspective. Thank you. Okay, so what's coming up for you, are you working on anything interesting?
Yes, so for myself, in September, I'll be premiering a new solo. It's a full-length work called Chapter 21. It's directed by Yvette Nolan and I have been mentored on the project by Michelle Olson from Raven Spirit and Alvin Tolentino from Co. Erasga Dance and some other amazing artists including composer Edgardo Moreno and lighting designer Jono Kim. So even though it's a solo work, there are all of these artists that have been holding me as I bring this story through. 
It's a very personal story, it's autobiographical. And it's about a big chapter in my life a few years ago when I became a mum. I've got a little boy named Sami and we knew that he was going to be born with Down Syndrome or Trisomy 21. And so that was going to be a big adjustment in life, not to mention just becoming a mom. And then three weeks after Sami was born, I was diagnosed with breast cancer. And I always preface this by saying that I'm doing really well now, I'm all clear. I'm on the other side of things. But it was this collision of all these events: a new child who's going to have extra needs, my own health crisis, and it was like, how am I gonna do this?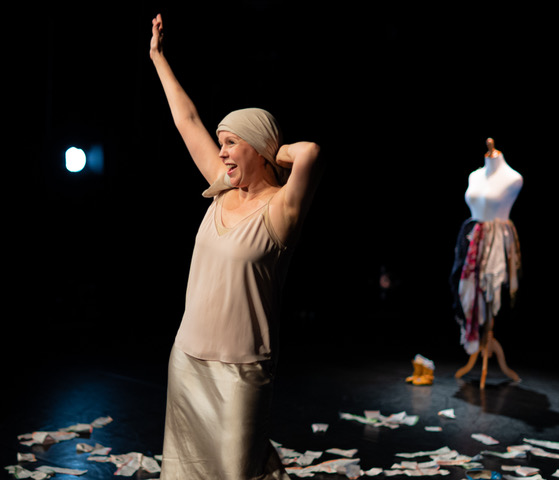 It was such a traumatic experience, a life-altering experience, but also an empowering one because of all that I learned about myself. So now that I know that I am strong and that I can move through difficult things, a couple of years later I went into the studio, and I said, "Okay, now I want to know what my body wants to say".
I thought I was just going to start sharing it with a few friends, as just a personal thing, a way to just process what happened to me but it turned out to be something bigger. It is part of a larger collective experience - everybody is guaranteed to go through difficult things in life. So how do we move through that? And how do we transform those experiences? 
So fast forward to now, it's been three or four years, and I have this piece. It's dance and theatre. Yvette Nolan is a big part of it as the theatre director because there's quite a lot of theatrical elements to it and then we brought in all of the designers and everything. So we're going to premiere it in September at the Fire Hall! 
And we also have a documentary that accompanies it, a behind the scenes look at the creation of the work and that was created by Sophia Wolf, who is a filmmaker. 
And so that's my personal work. And then we've got a lot of really great things happening with Raven Spirit. We're developing a new work called Confluence, a group piece for Indigenous women that will be shared this summer at Dancing on the Edge.
Great, so just to wrap us up, do you have any encouraging quotes or anything that you find inspiring right now that you'd like to share with our readers?
This is something that I'm practicing in my life right now: how to be brave and how to be kind. I think that if we embrace these two values for ourselves and for each other, it's going to allow us to move through this time. Artistically, how can I be brave in the rehearsal room, in my conversations with people about the work? And then kindness, I don't take that lightly. Be kind to each other. Everyone's going through difficult times, at any given point. And so I think that if we can be kind to each other, and support each other and lift each other up, then those are the kinds of things and the people that will continue to inspire me.
Find Starr on: Facebook | Raven Spirit Dance Society 
Thank you to Starr for sharing with us!
Photo Credits (top to bottom): Melanie Orr and Erik Zennström