Ontario Presents and its member presenting organizations recognize the importance of presenting Indigenous artists, stories and culture as part of their presenting practice. As we continue to encourage the respectful presentation of Indigenous art, we will be featuring an Indigenous artist each month in our e-newsletter and blog. Our sincere thanks to Denise Bolduc for conceiving of and continuing to support this Spotlight Series.  
Started in 2018, the Indigenous Artist Spotlight series is intended to foster greater awareness and understanding of the strength and diversity of Indigenous art available in Ontario and beyond. As Indigenous and non-Indigenous artists face an incredibly difficult time, we will continue to spotlight inspiring Indigenous artists. 
Find all of our past Spotlight interviews here.
This month we spoke with theatre artist Tai Amy Grauman.
We always like to start with an introduction – can you introduce yourself and your artistic practice?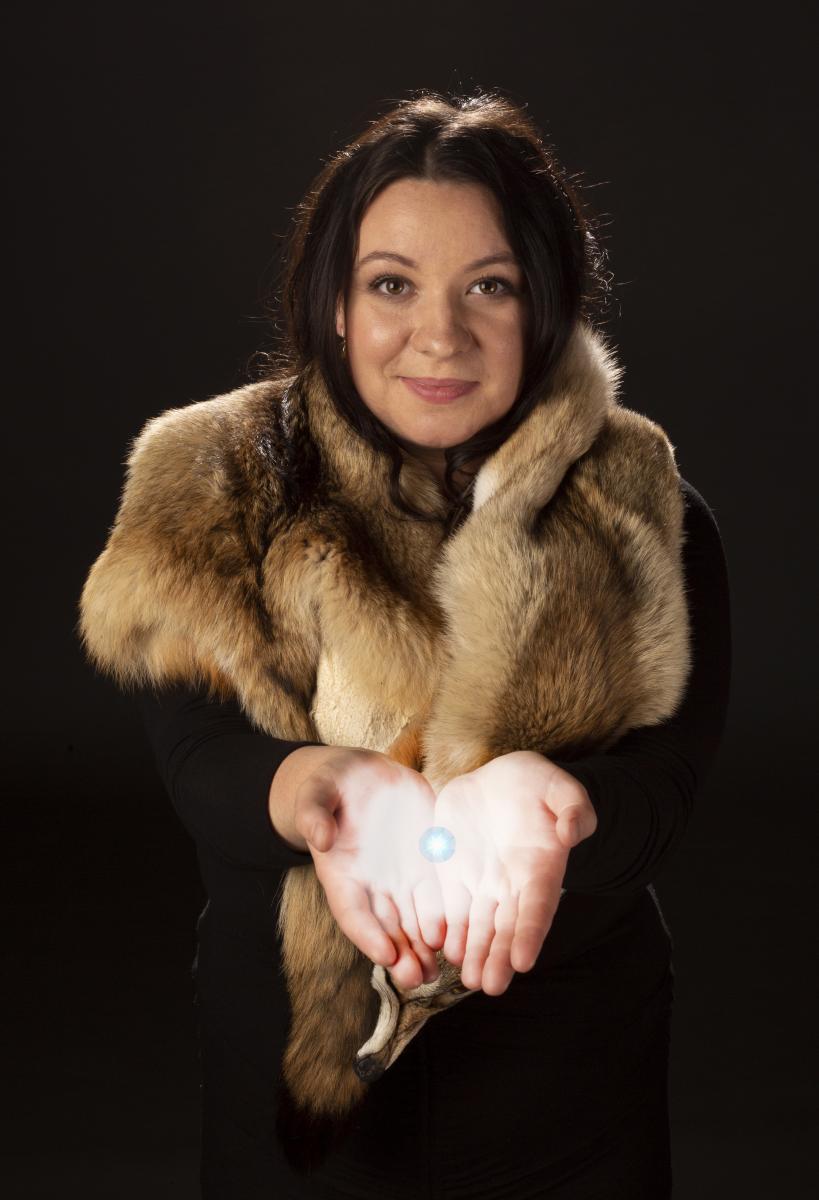 My name is Tai Amy Grauman and I am Métis, Cree, and Haudenosaunee. I grew up in Ardrossan, Alberta, but my dad is from St. Paul - he is Métis, Cree and Haudenosaunee. My mom is from Cutknife, Saskatchewan - she's Métis Cree. I grew up between the two, on a farm in the heart of treaty 6. 
Currently, I'm an actor, a playwright, a creator-type person, and an MFA candidate. I'm also an associate artist at Savage Production Society and an associate artist at the Citadel Theatre. I'm also part of a research collective calledIskwewak Decolonial Self Lovers Society. We're looking at Métis and Cree women's wellness and decolonizing what love means. 
That's really interesting, my next question was actually going to be that…
Love story thing?
Yes! You work a lot with love stories, can you talk a bit about that?
Yes, how many love stories have I written now? My play You Used to Call Me Marie, which we're doing this summer, essentially started my journey into love stories. About four years ago, this woman, Marie, kept coming to me and dreams, and I kept being cast as Maries! The really big one was when I was in Kevin Loring's Thanks for Givingand I came in on the first day and my character's role was Anna Marie and it had changed to Marie. I always knew I was from a long line of Maries but that's the thing that made me start digging into it.
The work I'm doing with my thesis is telling Michifwomen's stories that have yet to be told. The Métisnarrative is male-dominated… And that happened because we have so many incredible men. We have Louis Riel, Gabriel Dumont, Louis Callihoo, Michel Callihoo (that's who I'm from, the Callihoo family). So when I started, I was interested in showcasing the historical narratives of the woman. I've known them and their stories in my family, but nobody knows how incredible these women were. 
And then there was a series of events which made me realize that the best way to research and remember these women was by looking at them through a lens of love. Historically, the way to find them in the Alberta archives is to know who they were married to. And also, we're matriarchal communities and that's how our leadership is. So I'm looking at these historical things and it says, "Michel Callihoo said this," and I can look at that and think, "Okay, maybe, but his wife told him to say that." So that's where I started going in and finding all these love stories. 
The other thing about Métis women and Métis people as a whole is that we love and we love hard. So from there, I wrote You Used to Call Me Marie, which is eight love stories starting in creation and ending in the present. They start with our people coming from the stars and end with me – it's essentially an accumulation of love stories. The whole idea is that these souls are reincarnated throughout history. So it's a love story first and a historical epic as a consequence. 
From there, I'm writing Wiwimaw which is a Nightswimming commission, which is about all the women talking about the men. Which is that story from a completely different perspective. 
And then I also adapted Mary's Wedding recently, which we did at the Citadel Theatre in December.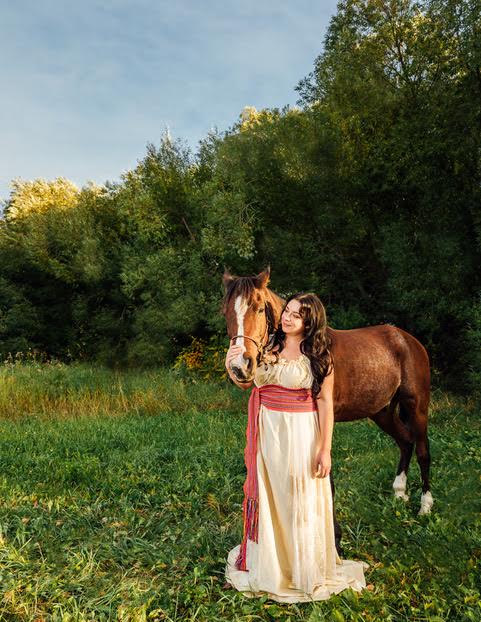 So, everything in my life, all of these love stories, are coming from multiple lenses and lights on the same heart journey that I'm on. To rediscover what partnership meant to us, and what matriarchy meant to us, and what the sacred feminine and the sacred masculine meant to us. I didn't quite know that's what I was doing when I started, but that's what I'm digging into in my MFA.
I just had a conversation with my advisor Cindy Gaudet, who's an incredibleMétiswoman, about the way that patriarchy has ruined our ideas of romantic love, and how to find it, and how to place our value in it. So I guess that's why I tell love stories. I think we need them. I've always been obsessed with love stories - Titanic and The Notebook are my favourite movies.
I just think the world needs love stories. I understand and I see all the bad things that have happened to my people, but I want to celebrate the way we love each other.
I'm interested in what you said about how the patriarchy has ruined love stories, can you talk a bit more about that?
From my perspective, and something I have written about without knowing I wrote about it, is the way that in our Michif communities… when the Hudson Bay and the fur trade infiltrated, they looked to our men to make decisions, and to run things. And that's not how we did it. 
I'm deeply rooted in my Michif identity, and I value my Frenchness, so I'm not trying to denote that or erase it - but pre-Frenchness, we stood beside each other in partnerships and in love stories. The men supported and protected the women, and the women made decisions and raised the children. I should say that I wasn't born with this knowledge – it's been gifted to me by all of my elders, mentors, and teachers.
We used to be in more equal partnerships. And that's something that I've tried to highlight in my play You Used to Call Me Marie – the breaking down of that that happened with the need for Métis people to survive. 
I have this letter on my bookshelf, from when my family was in the underground Métis resistance in Alberta… This was the time when our people were road allowance people.
Meaning we weren't allowed on settlements or reserves - so we were either squatting on Crown land, or assimilating. 
We could assimilate, we could be road allowance people, or we could get scrip, which was vouchers for land. But it only worked 5 to 10% of the time because it just wasn't built to work out for us. So some of us became farmers, which is Mary's story in Mary's Wedding. And then if that didn't work out, we'd essentially end up as road allowance people living in ditches and squatting on crown land, unable to get a job as the nasty half breeds. And that's Charlie's story in Mary's Wedding. And then they fall in love and her family's very upset about that, because they're trying to assimilate her.
So going back in time, and looking at the way that the patriarchy has infiltrated our romantic relationships, is that our men have taken control and power as a way to survive. So I don't fault anyone for it.
What I feel my work is now is the resurgence of the sacred feminine, which is that thing that had to leave in order for us to survive - our men seeing us as equals, and the Métis matriarchy. 
Something my mentor/ advisor Cindy Gaudet talks about is kitchen table theory - how Métis women would run the home, and that no one could come visit the home unless the Métis woman said yes, they could come in.
That's kind of what I mean about why I'm telling love stories. For me, what I need to do in this lifetime is understand what happened and how to heal. I think that's why I tell love stories. I also just love them.
Also I was raised in a small town, that's another aspect of myself. I grew up with all my girlfriends who I've known my whole life and they are all with their high school boyfriends. Those are the stories I grew up with - in a truck under the stars, dancing in barns until the sun comes up. I guess those things also felt intertwined with love letters to boys and the land and the horses and the sisters. As I'm growing as a creator, I'm like, "Oh, these love stories aren't just about boys, they're about all of us. They're about the land. They're about the animals. They're about our teachings. They're about our language. They're about the stars. They're about the prairies."
So that's my thing!
So do you think this will be your thing for a long time? You have lots of love stories left to explore?
For sure.
What's next for you? What are you working on next?
The next big thing is I'm writing a PlayME podcast for Arts Club Theatre Company called My Father is the Greatest Man in the World. And that is a love story, but not romantic love. It's about my father, a Métis man who raised his family by working in the oil field. It's going to be an eight-episode podcast.
Also, Mary's Wedding is supposed to happen at the Citadel Theatre. We recorded it in December and it was surreal. We just walked away from the set - I hung my dress up, cried, and then went to the stage and our crew was plastic wrapping the set like a sandwich, they were saving it for later. So that run is going to happen whenever restrictions lift enough for that to happen. I will be there putting my dress on and removing the plastic wrapping.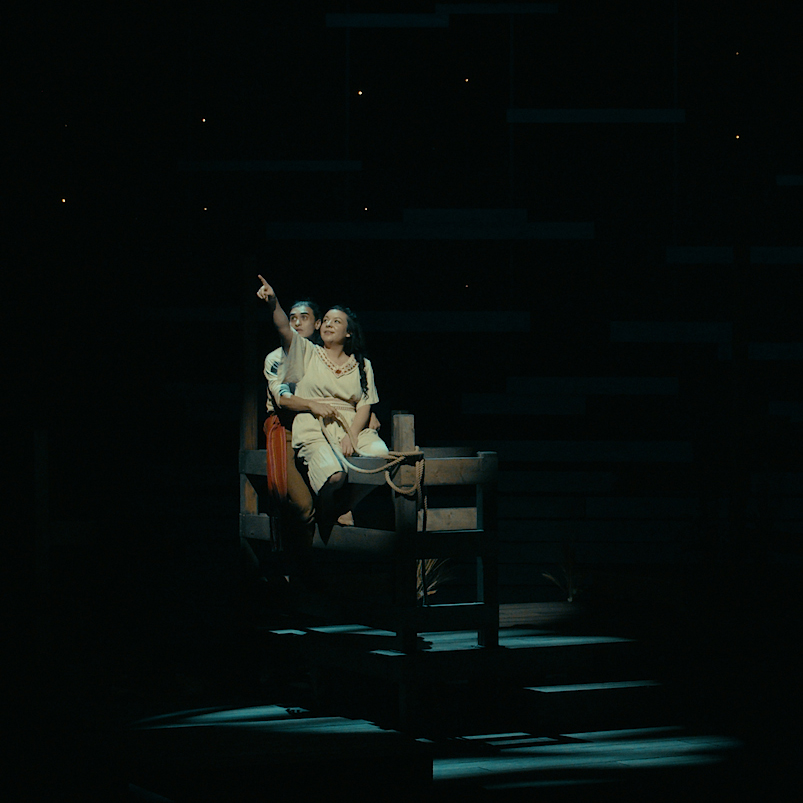 For now that show is available digitally, and it's a really good video. 
Then in July, we are building the roadshow circus version of You Used to Call Me Marie. So we're going to Caravan Farm Theatre for two weeks (produced by Savage Production Society). and then we're bringing the show to Alberta. We're essentially building the circus version that can fit in a van. Because I was living in Vancouver when I wrote it, that show has never made it to Alberta. A lot of my mentors, families, language teachers, and adopted aunties all contributed to that show but have never seen it. So we are bringing a portion of the show to Alberta in a three-week building, sharing, and advising process.
So there's been a lot going on, and I got a puppy!
Well you have clearly been busy! What are your hopes going forward for the theatre world as we navigate the rest of this pandemic and, emerge out of it? 
I hope that in this time away from the theatre, people have realized how badly they need us and we'll come back to the roaring 20s!
Find Tai on: Facebook | Instagram
Thank you to Tai for sharing with us! 
Photo Credits (top to bottom):
Tai Amy Grauman for You Used to Call Me Marie, photo by Tim Matheson
Tai Amy Grauman for the Citadel Theatre's production of Mary's Wedding: A Métis Love Story, photo by Janice Saxon
Tai Amy Grauman and Todd Housman in Mary's Wedding: A Métis Love Story