Ontario Presents is pleased to announce a new initiative as part of our ongoing efforts to support the presentation of work by Indigenous performing artists in Ontario.
OP presenter members can now apply for funds to cover the costs of travelling to see Indigenous work.
Adam Moffatt has worked with Ontario Presents to create a list of presentation-ready Indigenous artists currently performing in the province (or nearby). The list is available below and will be updated as new works are identified. Please note: We have included some out-of-province shows for your interest, but are for the most part unable to fund out of province travel (some nearby shows in Manitoba or Quebec may be possible). 
While this listing is publicly available (please feel free to share), the funding program is open to Ontario Presents presenting members only. Funds will cover tickets, accommodation, and a contribution towards travel. To apply, simply complete this form and send it to Ceilidh Wood.
This is an ongoing program with continuous intake until funds are spent.
If you have any questions about this program, please contact Ceilidh.  
We encourage you to review OP's Guiding Principles for Presenting Indigenous work for further guidance on this important topic.
September 2019
Celebration of Nations, St. Catharines
Fri, Sept 5 - Sun, Sept 7
Interdisciplinary Festival
Celebration of Nations is part of a long-term vision of the FirstOntario Performing Arts Centre, Kakekalanicks and the City of St. Catharines to build on the Two Row Wampum that promotes all Nations walking together, in parallel, with respect, compassion and understanding to cultivate an inclusive community for our shared future.
Planned as a year-long program Celebration of Nations will reach a crescendo on 6-8 September 2019 with a three-day Gathering of Indigenous Arts, Culture, and Tradition that will showcase a wide variety of Indigenous arts and artists, ranging from traditional and contemporary music and dance, visual arts to film screenings, creative workshops, eye-opening teachings, and hands-on activities for both children and adults.
Performances Include:
Cody Coyote at the National Arts Centre, Ottawa
Fri, Sept 13
Music
Cody Coyote is quickly becoming one of Ottawa's most recognizable and inspiring hip hop artists. Of Ojibwe/Irish descent, his fiery performances fuse profound lyricism with inspiring narratives drawn from his observations on modern life, while paying homage to his Matachewan First Nation ancestry. Coyote's most recent album "Mamawi" ("All Together" in Anishinaabemowin) explores ideas of positive change through togetherness, love and unity.
Find Cody Coyote on: Facebook | Instagram | Twitter | YouTube | Website
Silla and Rise at the National Arts Centre, Ottawa
Sat, Sept 14
Music
Silla and Rise blend Inuit throat-singing and futuristic dancefloor beats. Silla are Cynthia Pitsiulak (Kimmirut, NU) and Charlotte Qamaniq (Iglulik, NU) their name comes from the Inuktitut word "Sila" meaning weather. Sila is what surrounds us; it is what connects us to our land, to the moon, sun and stars, the ocean and the air we breathe. In respecting and honouring the need to preserve Inuit culture and paying homage to our land and the strong connection to its spirituality, they experience and perform the sounds of traditional and contemporary throat songs. Rise is Ottawa's Rise Ashen, a Juno Award nominated global-grooves producer, DJ and dancer who has spent his life pursuing the intersection of traditional and futuristic music.
Find Silla and Rise on: Facebook | Instagram
Buffy Sainte-Marie at the National Arts Centre, Ottawa
Sat, Sept 14
Music
For more than five decades, legendary Indigenous singer-songwriter Buffy Sainte-Marie has reinvented herself, creating songs that reveal new shades of an artist already revered as a pioneer. An activist, educator, visual artist, and winner of countless awards, Buffy's powerful and lyrical songs weave the human narratives left out of the history books.
Find Buffy Sainte-Marie on: Facebook | Twitter | Website
Nick Sherman at the National Arts Centre, Ottawa
Fri, Sept 20
Music
Singer-songwriter, Nick Sherman, gives new meaning to "the voice in the wilderness," or rather, the voice from the wilderness. His gentle voice is rich with honesty and the vitality of youth, but tempered with world-weariness, atop his strong, simple guitar.
Find Nick Sherman on: Facebook | Instagram | Twitter | YouTube
Florent Vallant at the National Arts Centre, Ottawa
Thurs, Sept 26
Music
Innu writer, composer and performer Florent Vollant, who was born in Labrador in 1959, grew up on the Maliotenam reserve to the east of Sept-Îles. He began his musical career in the mid-1980s and subsequently helped create the Innu Nikamu music festival. He also joined forces with Claude McKenzie, another young Innu, to form the duo Kashtin. In fall 2018, he released a new 11-track album with a country-folk and Tex-Mex flavour – Mitsha Meshkenu, which means "the open road" in Innu.
Over the past few years he has garnered numerous awards and other honours. In May 2017, he received the title of Compagnon des arts et des lettres du Québec, an important distinction awarded by the Quebec arts council, the CALQ. He was also the winner of the SODEC-Bourse Rideau European Jury Prize in February 2018, and recognized again in June when he was awarded the Lieutenant Governor of Quebec's prestigious Gold Medal.
Find Florent Vallant on: Facebook | Instagram | YouTube | Spotify
Riit at the National Arts Centre, Ottawa
Sat, Sept 28
Music
Riit, from majestic Panniqtuq, Nunavut, is a new artist making space for herself in the electropop world with Inuktitut lyrics and deep rhythmic vocals layered over gemological synth cuts and sticky, staticky electronic textures.
Throughout her debut full-length album, produced by Graham Walsh and recorded in Iqaluit, Nunavut and Toronto, Riit sings about the clarity of forgiveness, the imprint of the past on the present, and personal disconnection. Riit also nods to Nunavut's rich yet underappreciated legacy of songwriters, with covers of Inuktitut classics included on the record.
Riit is one of the faces of a Nunavut youth movement, a group of remarkable, driven and increasingly high-profile individuals. Her performance in London for The Duke and Duchess of Sussex and a sold out show in Paris are highlights of her young career.
Now signed to Six Shooter Records, Riit will release her debut full-length album in 2019.
Find Riit on: Website | Facebook | YouTube | Spotify
The Unnatural and Accidental Women at the National Arts Centre, Ottawa
Wed, Sept 11 - Sat, Sept 21
Theatre
Award-winning Métis-Dene playwright Marie Clements' tender and provocative The Unnatural and Accidental Women courageously demands that we never forget the continuing crisis of Missing and Murdered Indigenous Women and Girls across Canada. In this remarkable play, the spirits of ten women bear witness to each other's lives and deaths as they convene to support Rebecca's search for answers about her own mother, who went for a walk and never returned.
Using humour and deeply rooted ancestral knowledge to tell their stories, The Unnatural and Accidental Women fearlessly walks Vancouver's Downtown Eastside, pushing us ever closer to truth and remembering.
Mokatek et l'étoile disparue at the National Arts Centre, Ottawa
Fri, Sept 13 - Sat, Sept 14
Theatre
a Vox Theatre (Ottawa) and Ondinnock (Montreal) co-production
co-presented with Zones Théâtrales
Remembering his mother each night before he sleeps, young Mokatek recounts his day to the brightest star in the sky, the North Star. But one night, under the full moon of the summer solstice, Mokatek realizes that the star has disappeared.
So begins a journey that will test his courage and strength with every step. Along the way, Mokatek is guided by the spirits of sounds and animals that move him ever closer to his own origins and the land.
Combining puppetry, songs and dance, Mokatek et l'étoile disparue will awaken you to the beauty and wealth of Indigenous languages.
Recommended for children ages 2-6 and their families.
Supercrawl, Hamilton, featuring Lacey Hill, nehiyawak, Snotty Nose Rez Kids, and Yamantaka//Sonic Titan
Fri, Sept 13 - Sun Sept 15
Music
A soulful musician, singer, and songwriter. Lacey Hill composes her music in Southern Ontario on the Six Nations of the Grand River reserve. She grew up "down the bush" (slang for 'on the reserve') where her passion for singing emerged when she was just a toddler.
Find Lacey Hill on: Facebook |  Twitter | Website 
nêhiyawak nêhiyawak hails from amiskwaciy (Edmonton) on Treaty 6 territory. Comprised of Kris Harper, Matthew Cardinal, and Marek Tyler - three Indigenous musicians coalescing at theintersection between traditional and contemporary music.
Find nêhiyawak on: Facebook | Instagram
Snotty Nose Rez Kids (SNRK) are an Indigenous hip hop duo currently based out of Vancouver, BC. Proudly hailing from the Haisla Nation, SNRK creates music that pays homage to their upbringing on the Rez in Kitimaat Village while also touching upon larger themes related to Indigenous identity, politics and resistance in ways that engage a diverse audience.
Find Snotty Nose Rez Kids on: Facebook | Instagram | Website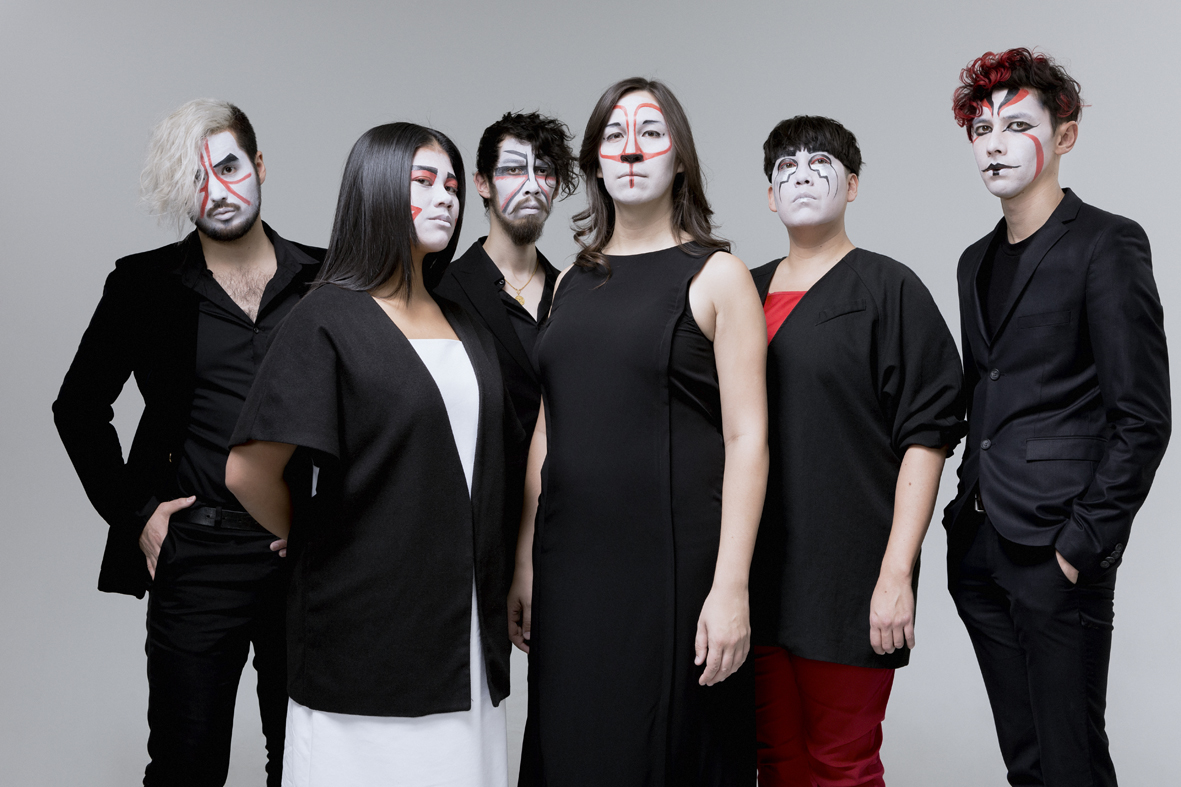 Yamantaka // Sonic Titan is a Noh-Wave prog collective, a black-and-white (and sometimes red) theatre company, an operatic psych cult, rock band and the speculative prophets of humanity's impending doom.
Find Yamantaka // Sonic Titan on: Facebook | Instagram | Twitter | Website
Where the Blood Mixes at the National Arts Centre, Ottawa
Fri, Sept 13 - Thurs, Sept 18
Theatre
Co-presented in French with Zones Théâtrales
a Menuentakuan production in collaboration with Teesri Duniya Theatre
Can a person survive their past? Can a people survive their history? Irreverently funny and brutally honest, Where the Blood Mixes is a story of loss, resilience, and redemption set in the heart of the Fraser Canyon.
Caught in a shadowy pool of pain and guilt, Floyd has lost everyone he holds most dear. Now, after more than two decades, his daughter is returning home to confront him. Set during the salmon run, Where the Blood Mixes takes us from the bottom of the river to the resilient spirit of a people.
Winner of the 2009 Governor General's Literary Award for Drama, this is a transformational story of tragedy and hope, told with grace, wit, and humour.
Translated into French by Charles Bender, Where the Blood Mixes / Là où le sang se mêle, will be presented in French and English.
Susan Aglukark with the NAC Orchestra at the National Arts Centre, Ottawa
Fri, Sept 20
Music
Join JUNO Award-winning Inuk recording artist Susan Aglukark and friends for this epic musical journey, and discover the vibrant and beautiful culture of the North through storytelling, throat singing and more. In a career spanning more than 25 years, Aglukark has rightly earned an international reputation as one of Canada's most engaging and admired performers.
Finding Wolastoq Voice at the National Arts Centre, Ottawa
Sat, Sept 21 - Mon, Sept 23
Theatre/Dance
A Theatre New Brunswick production in association with Prairie Theatre Exchange.
Finding Wolastoq Voice is a powerful debut work from Indigenous artist-turned-playwright Samaqani Cocahq (Natalie Sappier) of Tobique First Nation, a leading voice in New Brunswick's thriving Indigenous art scene.
Featuring the evocative choreography of dancer Aria Evans, this beautiful dance-theatre hybrid is the deeply personal coming-of-age story of a young Wolastoqiyik woman who is awakened by the voices of her ancestors. Evans draws on her experiences as a woman of mixed race (Mi'kmaq/Black/British) to beautifully convey feelings of sorrow, grace, and hope.
Andy Moro has created an organic, natural world that shifts and moves seamlessly, providing the foundation for this inspiring work.
Using humour and deeply rooted ancestral knowledge to tell their stories, The Unnatural and Accidental Women fearlessly walks Vancouver's Downtown Eastside, pushing us ever closer to truth and remembering.
Mînowin, Dancers of Damelahamid at the National Arts Centre, Ottawa
Thurs, Sept 26 - Sat, Sept 28
Dance
The Dancers of Damelahamid, led by Margaret Grenier, is an Indigenous dance company from the Northwest coast of British Columbia. Its rich history of masked dance celebrates the diversity of the many Indigenous cultures of Canada.
Weaving together narrative, song, movement, and new multimedia, Mînowin unites the foundational values of reciprocity of Northwest Coastal cultures with contemporary dance to illuminate the process of finding direction. Inspired by the organic moments that arise when we connect with one another, Mînowin links Northwest Coastal landscapes with contemporary views of Indigenous dance, shining a light on the moments of connection and understanding that lead us ultimately to renewal.